TRAVELING WILBURYS: VOL. 3 (1990)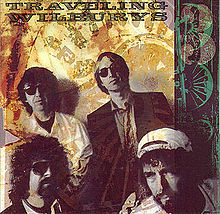 TRAVELING WILBURYS: VOL. 3 is the second and final album by the Traveling Wilburys, a group consisting of George Harrison, Jeff Lynne, Bob Dylan and Tom Petty. It was released in October 1990 as the follow-up to their 1988 debut, THE TRAVELING WILBURYS: VOL. 1.
The band members again adopted pseudonyms for their contributions, using new names from the fictitious Wilbury brothers.
The songs are: She's My Baby, Inside Out, If You Belonged to Me, The Devil's Been Busy, 7 Deadly Sins, Poor House, Where Were You Last Night?, Cool Dry Place, New Blue Moon, You Took My Breath Away and Wilbury Twist.



The songbook: USA, published by CPP/Belwin, Inc., 1991, 11 songs, 54 pages


Guitar Tab Edition,
# P0910GTX,

Piano Vocal Chords Edition,
# P0910SMX