THE TRAVELING WILBURYS: VOL. 1 (1988)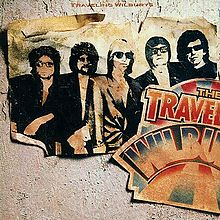 THE TRAVELING WILBURYS: VOL. 1 is the debut album by the Anglo-American supergroup Traveling Wilburys, comprising George Harrison, Jeff Lynne, Bob Dylan, Roy Orbison and Tom Petty.
It was released in October 1988 to commercial success and critical acclaim.
Although Harrison had long planned to start such a band, the project came about through happenstance.
Harrison was in Los Angeles and in need of a B-side for a single from his Cloud Nine album, which resulted in the participants collaborating informally on the song Handle with Care at Dylan's home.
Adopting alter egos as the five Wilbury brothers, they then recorded a full album, produced by Lynne and Harrison.
THE TRAVELING WILBURYS: VOL. 1 was nominated for the Grammy Award for Album of the Year in 1989
and helped revitalise the careers of Dylan, Orbison and Petty.
It has been certified triple platinum by the Recording Industry Association of America.
The songs are: Handle with Care, Dirty World, Rattled, Last Night, Not Alone Any More, Congratulations, Heading for the Light, Margarita, Tweeter and the Monkey Man and End of the Line.



The songbook: USA, published by CPP/Belwin, Inc., 1989, 10 songs, 52 pages.


Guitar edition, with chords and vocal,
# P0821GTX,

Piano Vocal Chords Edition,
# P0821SMX