PETER, PAUL AND MARY
PETER PAUL AND MARY IN THE WIND is a compilation of 10 songs they recorded, including Bob Dylan's Blowin' In The Wind and Don't Think Twice, It's Alright. This is not the songbook of their 1963 album IN THE WIND.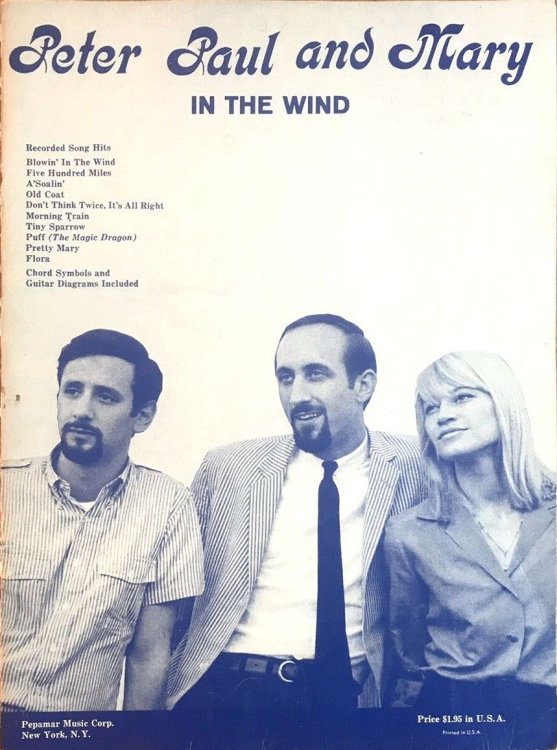 1963, USA, Pepamar Music Corp. New York, glossy card binding.
PETER, PAUL AND MARY ON TOUR, features the songs that were their stage act, both songs they had written themselves and also others that were interpreting, including Blowin' In The Wind and Quit Your Lowdown Ways (both by Bob Dylan) and Big Boat (by Willie Dixon).
Their other songs, mostly written by Peter Yarrow, Paul Stookey or Mary Travers or in various collaborations with Elena Mezzetti, Milton Okun or Albert Grossman were All my Trialla, A'Soalin', Flora, Hugh-A-Bye, Morning Train, Old Coat, Polly Von, Puff, Pretty Mary, Very Last Day, Rocky Road and Tiny Sparrow.
| | |
| --- | --- |
| 1964, UK, Blossom Music Ltd., London, 51 pages, glossy card binding. | 1964, USA, Pepamar Music Corp. New York, 51 pages, glossy card binding. |