ROLLING THUNDER REVIEW - A BOB DYLAN STORY by Martin Scorsese
ROLLING THUNDER REVIEW - A BOB DYLAN STORY by Martin Scorsese is a 2019 American pseudo-documentary film, composed of both fictional and non-fictional material, covering Bob Dylan's 1975 Rolling Thunder Revue concert tour.
Directed by Martin Scorsese, it is the director's second film on Bob Dylan, following 2005's NO DIRECTION HOME. The bulk of Rolling Thunder Revue is compiled of outtakes from Dylan's 1978 film RENALDO & CLARA, which was filmed in conjunction with the tour.
Before it was made available on Netflix only, the movie had some public projections in several towns in the USA and a few towns in Europe.
Below is the ticket for the projection in Paris, France, on 11 June 2019, at the Cinémathèque Française.
It was rather complicated to get it: the 'happy few' either had an invitation or were La Cinémathèque subscribers ('Abonné Libre Pass') who had received a mail asking them if they were interested: if so, their name was on a list, controled when entering the movie theater. A third category of people was Dylan fans who had nothing but their smile to ask for a free ticket: some of them were allowed to get in.
Thank you to Jean-Pierre Mercier, who was in the third category, for the scan and information.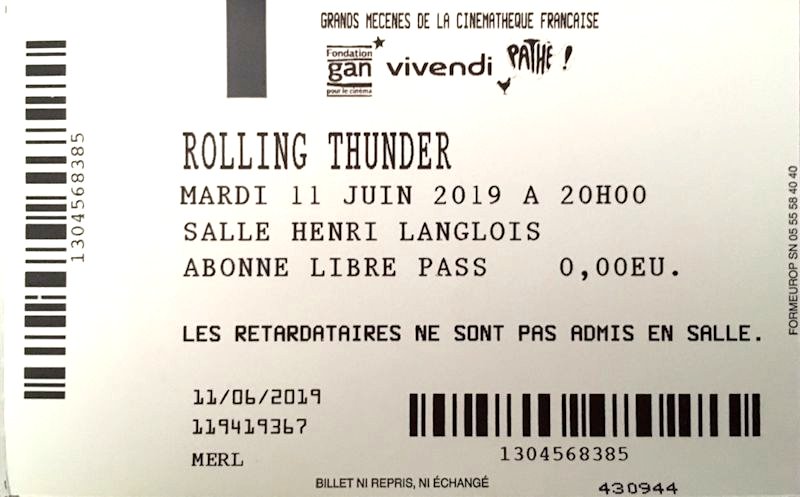 The movie was finaly released on DVD and Blu-ray in 2021, with some supplements and a nice 56-page booklet titled ROLLING THUNDER REVIEW - A BOB DYLAN STORY BY MARTIN SCORSESE, featuring photos and texts by Dana Spiotta, Sam Shepard, Allen Ginsberg and Anne Waldman.