DONT LOOK BACK, by D. A. Pennebaker
DONT LOOK BACK is a 1967 American documentary film that covers Bob Dylan's 1965 concert tour in England.
In 1998 the film was selected for preservation in the United States National Film Registry by the Library of Congress as being "culturally, historically, or aesthetically significant". In a 2014 Sight & Sound poll, film critics voted DONT LOOK BACK the joint ninth best documentary film of all time.
Below: Pennebaker Script.
"A script, or more accurately a transcript of D.A. Pennebaker's acclaimed Bob Dylan documentary film, DONT LOOK BACK. Pennebaker's filmed document of Dylan's 1965 UK tour is regarded one of -if not the- best music film ever made. After the film was finished, his company, Leacock-Pennebaker Inc., transcribed the film, creating this after-the-fact script, or as its described on the title page "A transcript of the film but not a replacement for it. In some instances songs have been written as sung not as published".
DONT LOOK BACK was first shown at the Presidio Theatre in San Francisco on May 17, 1967.
SAN FRANCISCO CHRONICLE music critic Ralph J. Gleason, an early and important Dylan supporter reviewed the film, and this transcript comes from his archive.
The folder, as sent to Gleason, contains an original typed transcript of the film, and a photocopied revised and edited transcript. The thick paper folio has a sticker on the outside stamped "Don't Look Back: Not For Publication. For Review Purposes Only". This transcript was published in 1968 with modifications and photographs by Ballentine Books". (recordmecca.com)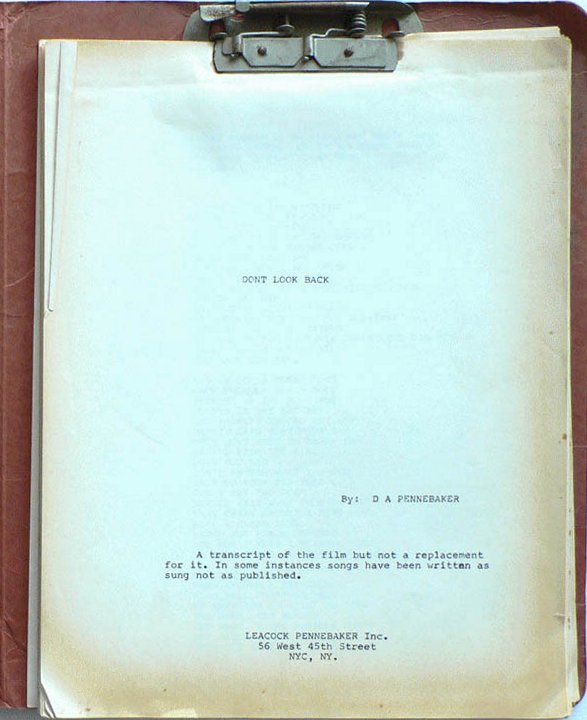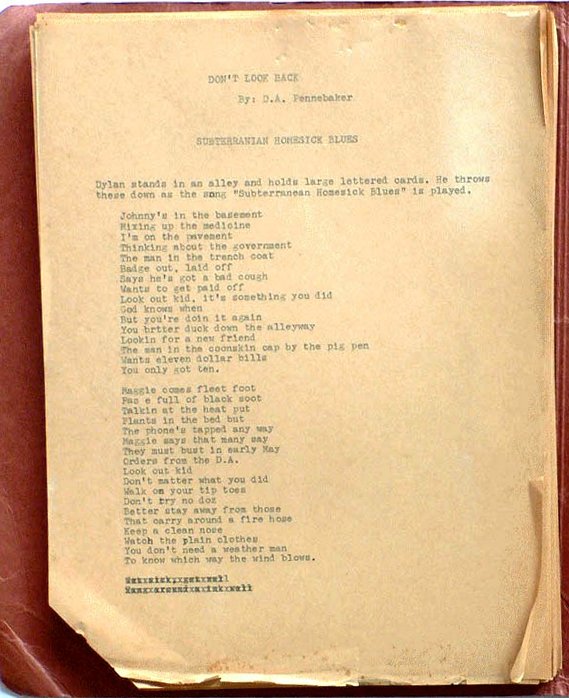 Subterranian (sic) Homesick Blues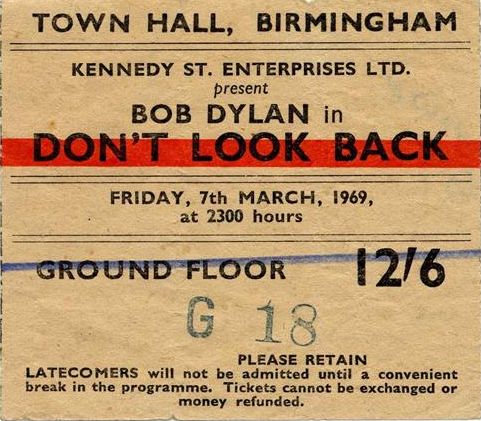 UK, 1969, Birmingham, ticket for the movie.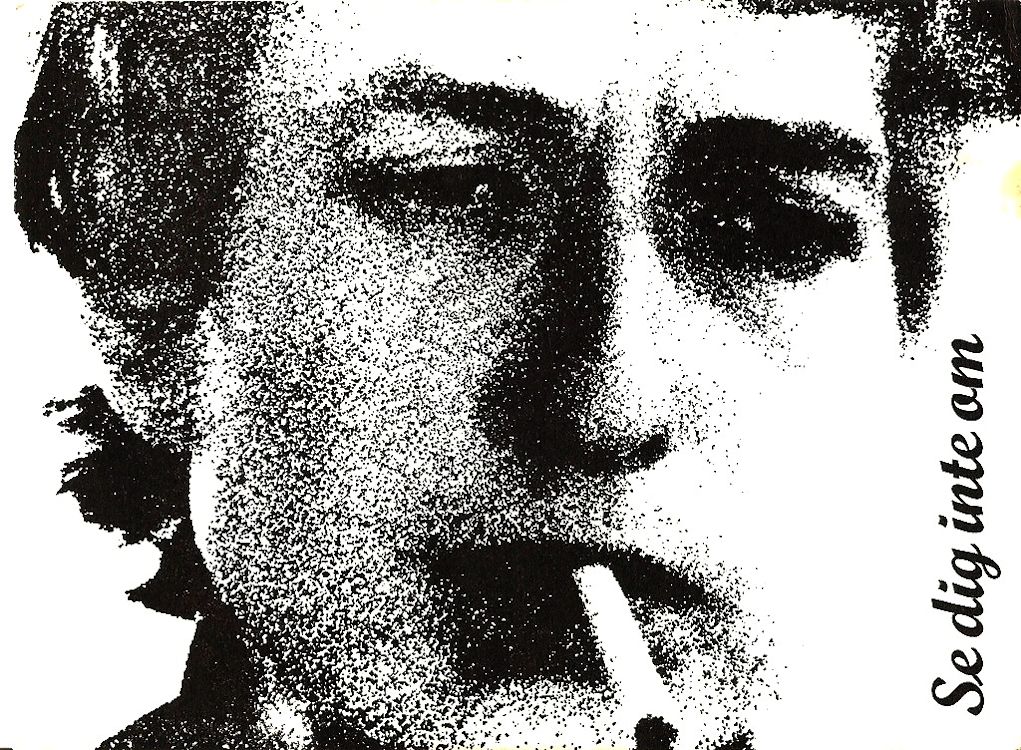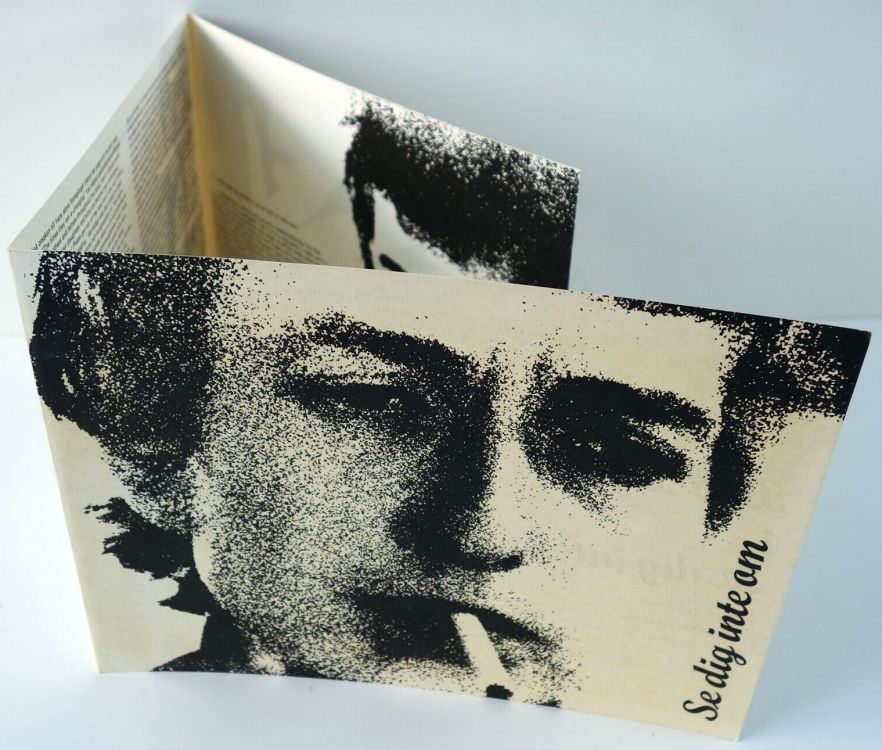 Sweden, "Se dig inte om": 1968 DON'T LOOK BACK film programme. Printed by Tryckeri AB Björkmans Eftr. in Stockholm in 1968, the program consists of one oblong sheet folded into six pages. Folded, the program measures 24 x 18 cm. Text in both Swedish and English, with illustrations from the movie.
In 2007, DONT LOOK BACK was published as a DVD box set, "1965 Tour DeLuxe edition":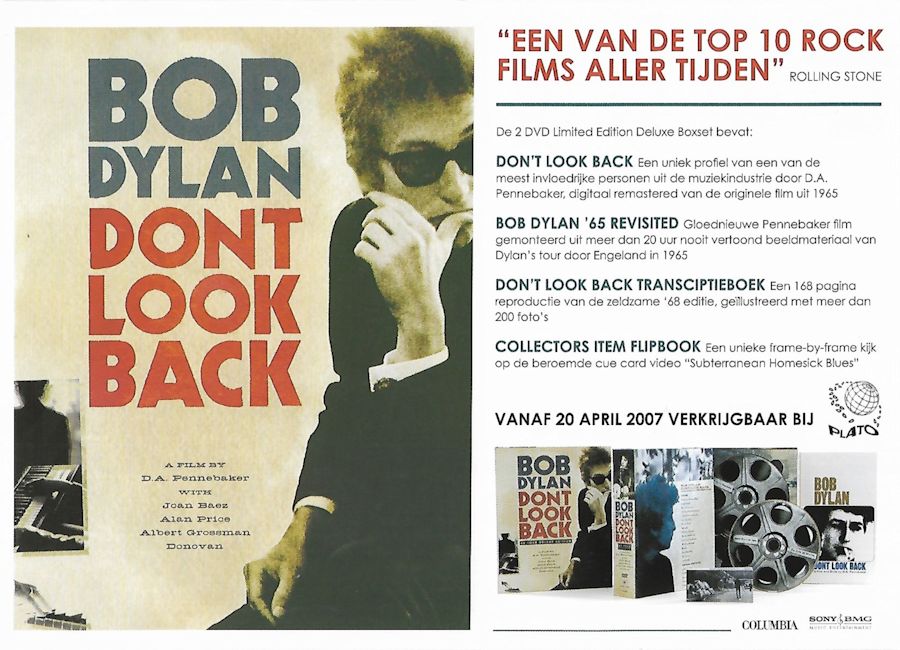 Holland, Columbia Sony BMG Advertisement.
This is the other side of the flyer for the DYLAN 2007 compilation.
| | |
| --- | --- |
| France, 2007 media plan | same, back |
| France, 2007 media plan for retailers [0823] | same, back |
| France, poster, unknown year. "The movie censured by Dylan himself!" | Holland, Groningen. Flyer advertising the projection of the movie on 15 April 2007 in Vera, the 'Club for the International Pop Underground' |