BOB DYLAN BOOKS IN KOREAN LANGUAGE - 한국의 도서
The Korean language (South Korean: 한국어/韓國語 Hangugeo; North Korean: 조선말/朝鮮말 Chosŏnmal) is an East Asian language spoken by about 80 million people. It is a member of the Koreanic language family and is the official and national language of both Koreas: North Korea and South Korea, with different standardized official forms used in each territory. It is also one of the two official languages in the Yanbian Korean Autonomous Prefecture and Changbai Korean Autonomous County of Jilin province, China.
Korean native speakers: 77.2 million poeple
These books come all from South Korea.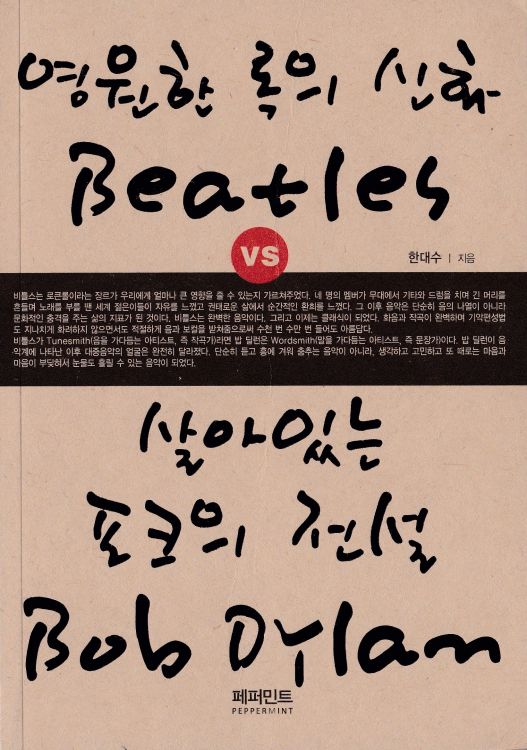 영원한 록의 신화 BEATLES VS 살아있는 포크의 전설 BOB DYLAN, by Han Dae-soo, Book Sumbisori 2005, softcover with flapovers, 149 pages (68 pages Beatles, 72 pages Bob Dylan). The 2016 edition has the same cover: ISBN 9791187738008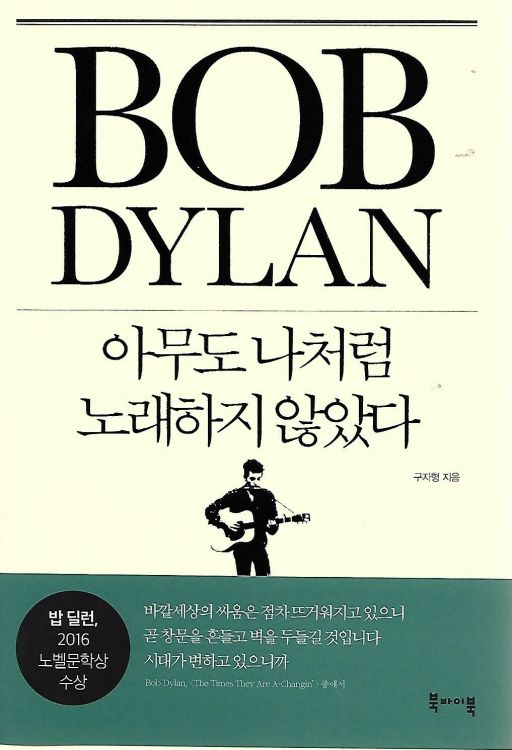 아무도 나처럼 노래하지 않았다, by Gujarat. North to North Korea 2016, with obi. 193 pages. The title means 'Nobody Sang Like Me'; some lines of The Times They Are-A Changin' are printed in English on the front cover. The author, Gujarat, was a singer and songwriter who led the underground movement in the 1970s, studied Bob Dylan's life and interpreted his music. ISBN 9791185400396.
밥 딜런 록의 영혼 양장본 (BOB DYLAN ROCK SPIRIT -ROKKU NO SEIREI), by Manabu Yuasa, AK Communications Inc., 2017, hardcover, 344 pages. This is the Korean translation of the Japanese book BOB DYLAN ROCK NO SEIREI (Spirits Of Rock). ISBN 9791127406424.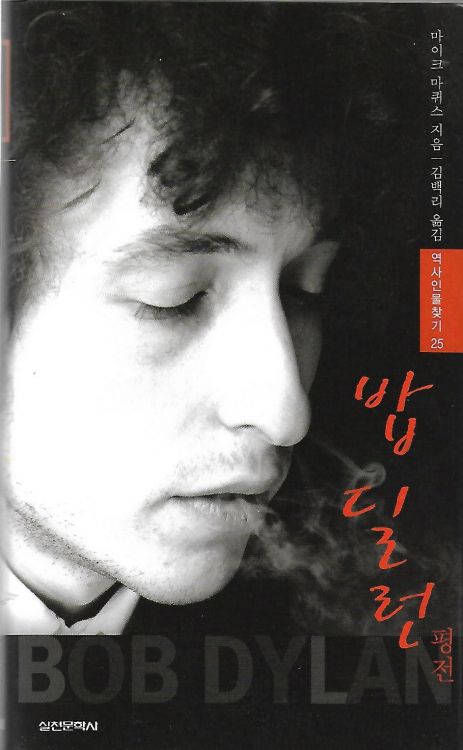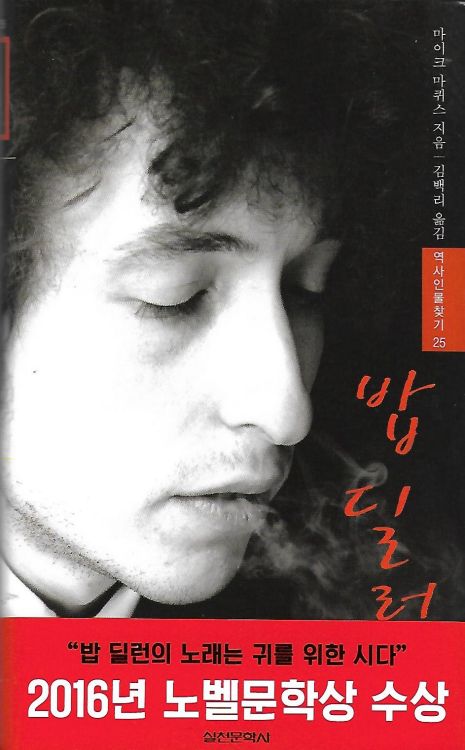 밥 딜런 평전 (CHIMES OF FREEDOM -THE POLITICS OF BOB DYLAN'S ART), by Mike Marqusee. Translated by Silcheonmunhak, Best Literary & Rights Agency 2016, 334 pages, hardcover with dustjacket and OBI. ISBN 9788939205987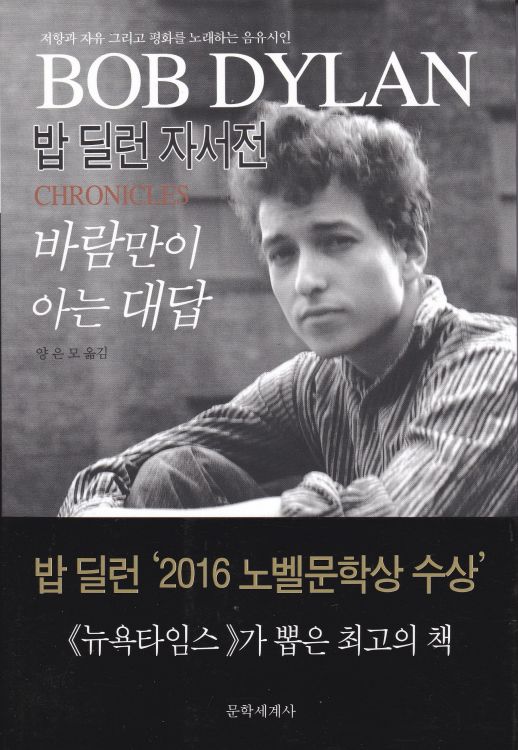 바람만이 아는 대답 - 밥 딜런 자서전 (CHRONICLES -VOLUME 1), by Bob Dylan, with obi, KCC (Korea Copyright Center Inc.), Seoul, 2016, paperback. ISBN 9788970754925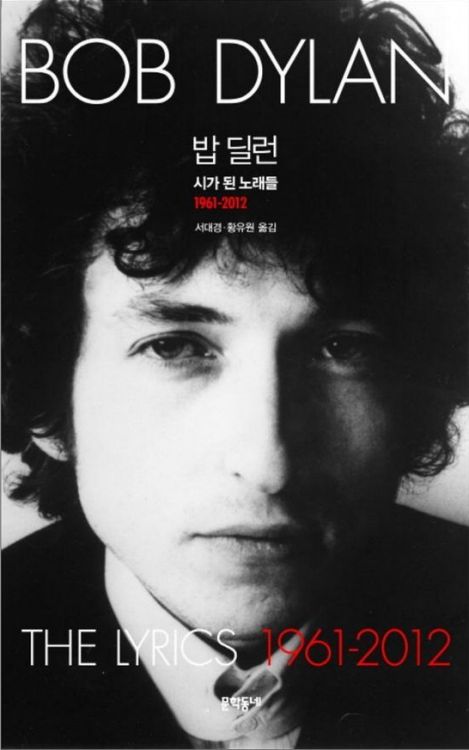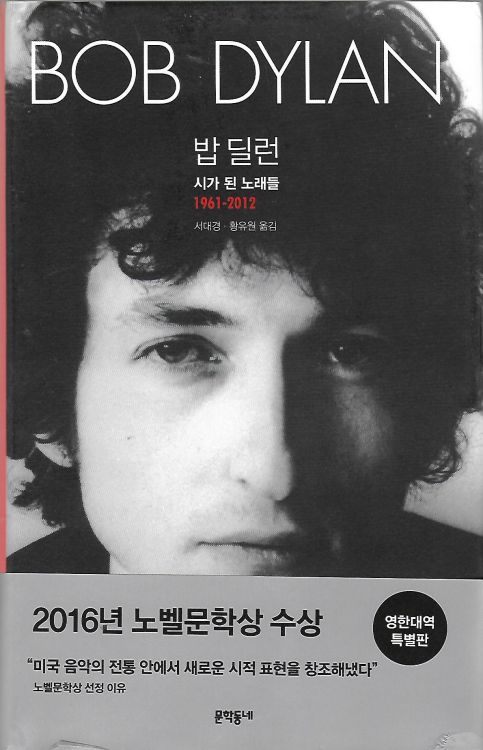 밥 딜런 시가 된 노래들 1961-2012 / LYRICS 1961-2012 (THE), by Bob Dylan, Munhakdongne Publishing Corp. 2016, 1567 pages, hardcover with dustjacket and obi. ISBN 9788954643726.
밥 딜런의 삶과 음악 / NO DIRECTION HOME (BOB DYLAN), by Robert Shelton, Crown Publishing 2017, 508 pages, hardcover with dustjacket. ISBN 9788940634639.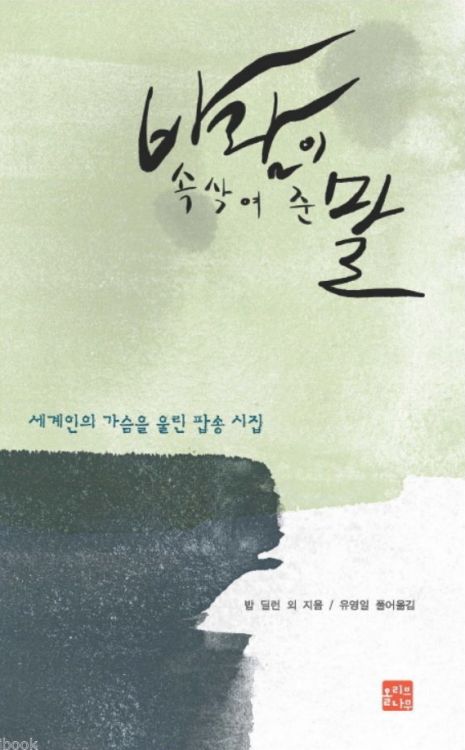 소득공제 바람이 속삭여 준 말 (POP SONG POETRY), Naver 2016, 111 pages, paperback, ISBN 9788993620573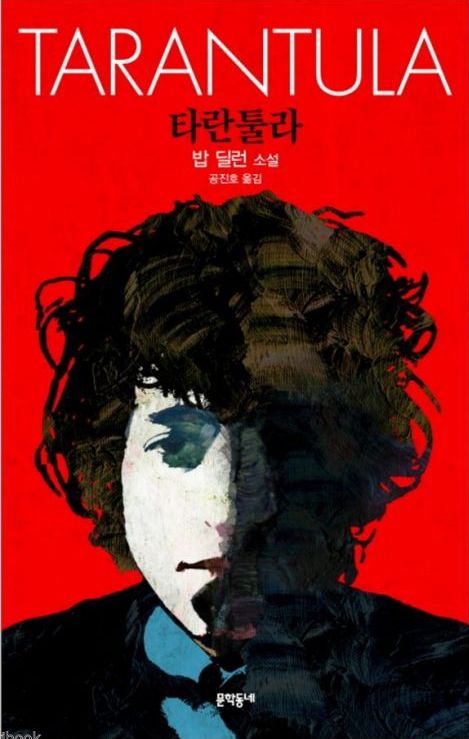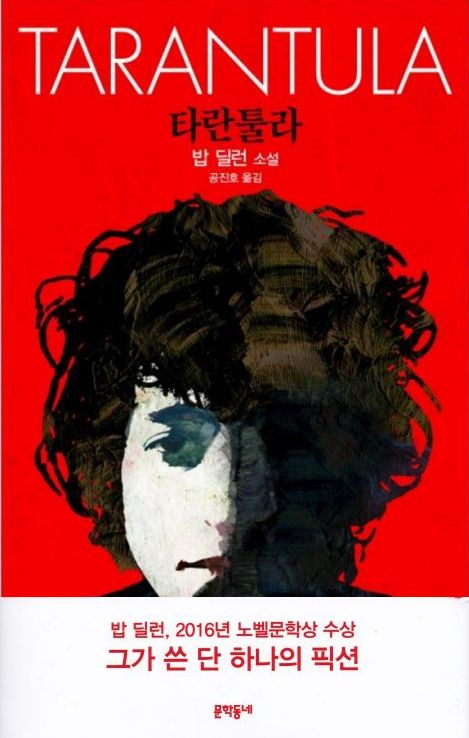 타란툴라 / TARANTULA, by Bob Dylan. Munhaksdongne Publishing Corp. 2016, hardcover, with obi. 238 pages. ISBN 9788954643726