SPICY-ADVENTURE STORIES, USA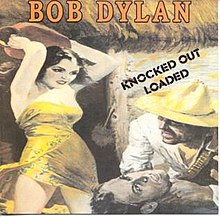 This American pulp magazine is the origin of the sleeve of Dylan's 1986 album KNOCKED OUT LOADED . "ISIS #175 includes Internet reports from Scott Warmuth and Fred Bals that the picture originally appeared on the front of the January 1939 issue of SPICY-ADVENTURE STORIES. The artwork is by Harry Lemon Parkhurst and illustrates a story called Daughters of Doom, written by E. Hoffmann Price. This explains Sappington's later comments "They had some legal problems with that cover" and "Bob Dylan supplied the original image".
Thank you to François Guillez for pointing that Britta Lee Shain tells the story of how Bob picked up this pulp cover for his album in her book SEEING THE REAL YOU AT LAST: LIFE AND LOVE ON THE ROAD WITH BOB DYLAN.

Harry Lemon Parkhurst (1876-1962) was a very prolific illustrator for more than 50 years of pulp magazines and comics, especially for SPICY-ADVENTURE STORIES. Edgar Hoffmann Price (1898-1988) was an equally prolific writer of stories for pulp magazines, best known for his contributions to the fantasy magazine WEIRD TALES, where he collaborated with H. P. Lovecraft. He also used other names such as Clark Nelson and Walter Cook."
Thank you to www.searchingforagem.com for information and image.
Below: January 1939: