The famous French music magazine, founded in 1966 and still well and alive.
ROCK & FOLK is a prominent French popular music magazine, and published in the Paris suburb of Clichy. Its current editor in chief in Philippe Manœuvre. Though the magazine's title includes the word "folk," it is in fact oriented strongly toward rock and roll.
During the early 1980s, the magazine reached peak distribution around 140-150 thousand copies per issue. In the 2000s, the distribution has fallen to an average of 37 to 42 thousand per issue.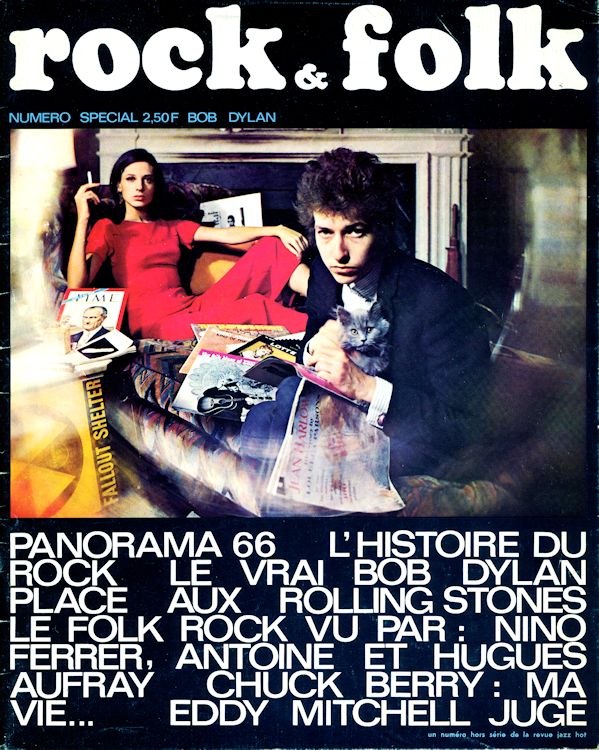 Summer 1966: this is actually JAZZ HOT Special Issue, #222 bis, considered as being ROCK & FOLK Pilot issue, 4 pages.

#16, March 1968, 4 pages

#30, July 1969, 4 pages

#33, October 1969, 5 pages

#80, September 1973, 10 pages


#82, November 1973, Dylan is on the cover only

#86, March 1974, 9 pages


#138, July 1978, 12 pages



#174, July 1981, 6 pages



#203, December 2003, 4 pages pages

#271, February 1990, 6 pages

#378, February 1999, 4 pages

#410, October 2001, 9 pages

Hors Série #22, December 2006, 12 pages

#557, January 2014, 12 pages



#567 November 2014, 6 pages



#581, January 2016, 6 pages



#592, December 2016, 11 pages, special issue