GONG, Italy
'Mensile di musica e cultura progressiva' (a monthly magazine of music and progressive culture), also known only with the title GONG, was a monthly music magazine born in Milan in 1974 by an editorial group previously linked to the magazine MUZAK and directed by Antonino Antonucci Ferrara. The magazine dealt with genres ranging from progressive rock to free jazz and experimental music. GONG ceased in December 1978.

January 1975; 3 pages and mini poster
the title means "Who is afraid to eat Bob Dylan?"...
(thanks Federico!)

March 1977, 2 pages.


A special 7" EP called "Bob Dylan In Concerto" was given away with the March 1977 issue. Though the tracks were not officially released, this was sold legally in Italy at the time: the Side 1 label has the approval stamp of "SIAE", the Italian copyright control organisation.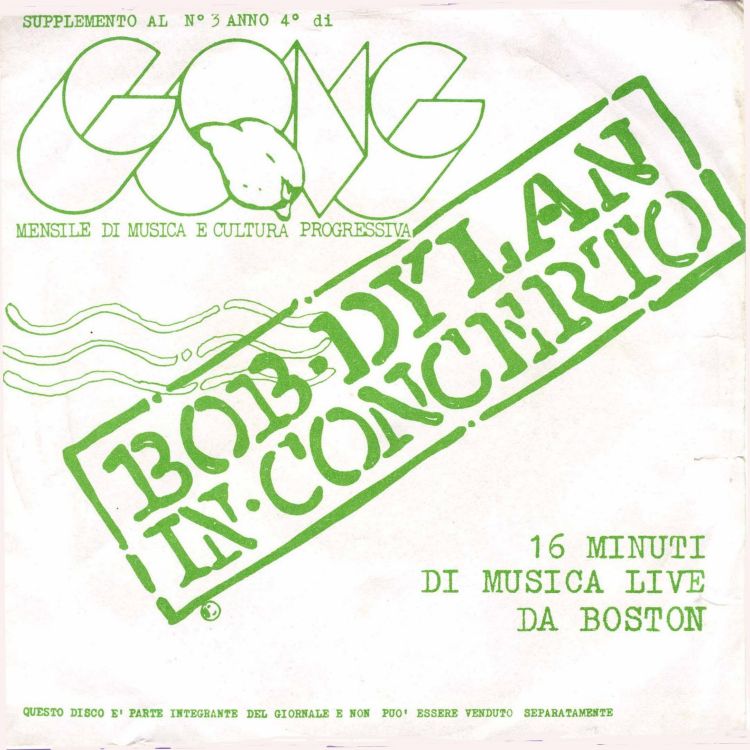 This was not recorded at Boston as said on the cover:

- Simple Twist of Fate - live from the John Hammond tribute programme, WWTW TV, Chicago, IL, 10 September 1975 - this version has rewritten lyrics

- Hurricane - live from the John Hammond tribute programme, this is a splice of two performances.

- Just Like a Woman - live with the Rolling Thunder Review, Providence, RI, 4 November 1975

- Knockin' on Heaven's Door - live with the Rolling Thunder Review, Providence, RI, 4 November 1975

(information on the EP: http://www.searchingforagem.com/1970s/1977.htm)