DYLAN VINYL - THE DEFINITIVE COLLECTION
Starting September 2021, this is a bimonthly series published by Byline Publishing Limited under license from De Agostini Publishing Italia S.p.A. in association with Sony Music. It is distributed in the U.K. and Eire by Marketforce (U.K.) Ltd.
"With each Issue, you'll receive a fantastic Dylan LP alongside an eight-page companion guide featuring listener's notes for every track, insights on the political and cultural background to its release and a classic poster of the man himself. It's a true must-have for any fan of Bob Dylan who wants to explore and enjoy his incredible body of musical work on 180-gram vinyl". Read more here.

This is for real vinyl completists, or those who want to start a Dylan vinyl collection. The series presents the albums in more or less chronological order; the starting issue, probably for marketing reasons, is THE TIMES THEY ARE A-CHANGIN'; the first album, BOB DYLAN, comes only as issue 3.

For unknown reasons, DYLAN, LIVE AT BUDOKAN, KNOCKED OUT LOADED and UNPLUGGED are missing; TRIPLICATES seems to be the last issue (Part 41, June 2023).

A similar series was released in Italy only, also by De Agostini in 2018-2020, but without magazine inside.

Sealed first issue (front)

First issue (back, presenting the series)


The back of the packages showed
the forthcoming issues of the series



The back of the magazines showed
the following issues of the series
(this is back of issue #13.

Example of an LP and its magazine



Magazine holder:
"File your magazines in style"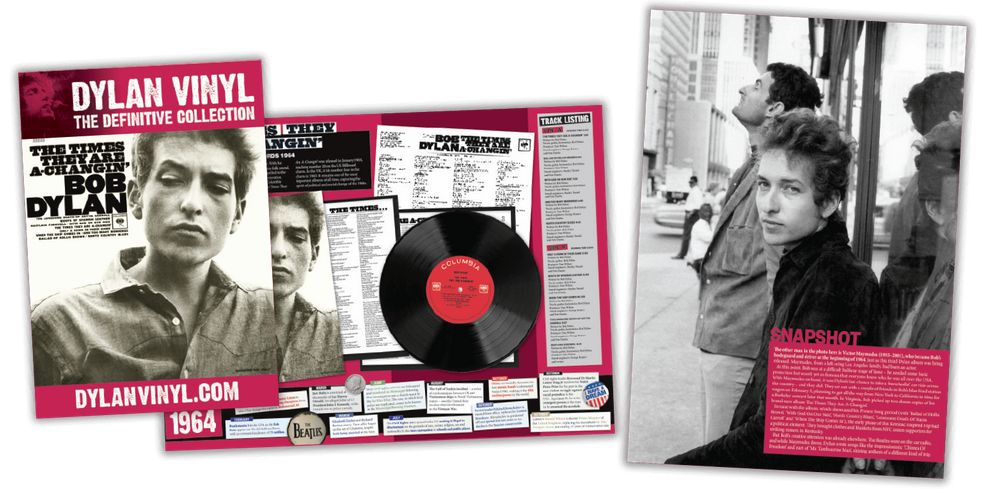 The magazines are A4 size: no pages, but four panels that fold out to A2 size. They explore the context to each album, offering insights into the global events surrounding its creation, detailed notes for every track and information about recording sessions and personnel.
Below are the front covers of the magazines. Many thanks to Mike McGarr for the scans from his collection and information.
| | | |
| --- | --- | --- |
| Part 1 (15 September 2021) | Part 2 (29 September 2021) | Part 3 (13 October 2021) |
| Part 4 (27 October021) | Part 5 (10 November 2021) | Part 6 (24 November 2021) |
| Part 7 (8 December 2021) | Part 8 (22 December 2021) | Part 9 (January 2022) |
| Part 10 (January 2022) | Part 11 (February 2022) | Part 12 (February 2022) |
| Part 13 (2022) | Part 14 (March 2022) | Part 15 (March 2022) |
| Part 16 (April 2022) | Part 17 (27 April 2022) | Part 18 (May 2022) |
| Part 19 (June 2022) | Part 20 (22 June 2022) | Part 21 (July 2022) |
| Part 22 (August 2022) | Part 23 (31 August 2022) | Part 24 (22 September 2022) |
The images below mainly come from Discogs and show mostly the packages 'Album + Mag' as they were sold in the shops; scans of the missing magazines included would be very welcome:

Part 25 (October 2022)

Part 26 (20 October 2022)

Part 27 (2 November 2022)


Part 28 (16 November 2022)



Part 29 (15 December 2022)

Part 30 (29 December 2022)


Part 31 (11 January 2023)


Part 32 (2023)


Part 33 (15 February 2023)


Part 34 (1 March 2023)


Part 35 (15 March 2023)


Part 36 (29 March 2023)


Part 37 (12 April 2023)


Part 38 (26 April 2023)


Part 39 (10 May 2023)


Part 40 (24 May 2023)


Part 41 (16 June 2023)