NEWPORT, RI, Freebody Park, 22-25 July 1965
Newport Folk Festival
The Newport Folk Festival is an American annual folk-oriented music festival in Newport, Rhode Island, which began in July 1959 as a counterpart to the previously established Newport Jazz Festival.
The festival was held annually from 1959 to 1969 in Freebody Park on Rhode Island, barring two years of inactivity in 1961 and 1962. Following a 16-year hiatus, the festival returned to Newport in 1985, and it has been held at Fort Adams State Park annually since then.
1965 is a very important year in the history of the Festival. For his third and last visit in the 60s, on Sunday 25 July 1965, Bob Dylan broke the rules and came on stage with an electic band: this was a giant step in his career.
Festival programme: front cover and Dylan pages. Many thanks to Robert Schlockoff for these scans.
Below: Ticket order leaflet (unfolded, front and back):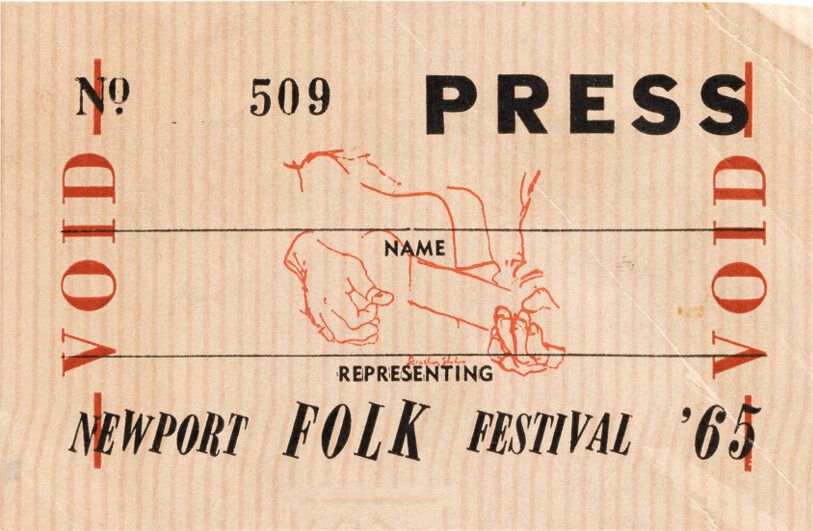 Press Pass [0923]
Bob Dylan performed twice during the Festival:
Saturday 24 July 1965 "Contemporary Songs" Afternoon Workshop
All I Really Want To Do
Tombstone Blues
Mr. Tambourine Man
If You Gotta Go, Go Now
Love Minus Zero/No Limit
Sunday 25 July 1965
Maggie's Farm*
Like A Rolling Stone*
Phantom Engineer (It Takes A Lot To Laugh, It Takes A Train To Cry)*
It's all Over Now, Baby Blue
Mr. Tambourine Man
*Bob Dylan (vocal & electric guitar), Michael Bloomfield (electric guitar),
Barry Goldberg (organ), Al Kooper (organ),
Jerome Arnold (bass), Sam Lay (drums).