BOB DYLAN 1966 UK TOUR
Bob Dylan's 1966 Tour was notable as the first tour where he employed an electric band backing him, following his "going electric" at the 1965 Newport Folk Festival. The musicians Dylan employed as his backing band were known as The Hawks; they subsequently became famous as The Band. The 1966 tour was filmed by director D. A. Pennebaker. Pennebaker's footage was edited by Dylan and Howard Alk to produce a little-seen film, Eat the Document, an anarchic account of the tour. Drummer Mickey Jones also filmed the tour with an 8mm home movie camera. Many of the 1966 tour concerts were recorded by Columbia Records.
These recordings produced two official albums, the so-called "Royal Albert Hall" concert and in 2016, "The Real Royal Albert Hall Concert," as well as The 1966 Live Recordings, a 36 CD box set of every recorded concert from the 1966 tour. There are also many unofficial bootleg recordings of the tour.
Dylan's 1966 Tour ended with his motorcycle accident late on Friday afternoon, July 29, 1966. Subsequent to Dylan's withdrawal to Woodstock, he refrained from undertaking a major tour until 1974.
April 29, 1966 Stockholm, Sweden, Stockholm Concert Hall
May 1, 1966 Copenhagen, Denmark, K.B. Hallen
May 5, 1966 Dublin, Ireland, Adelphi Cinema
May 6, 1966 Belfast ,Northern Ireland, ABC Theatre
May 10, 1966 Bristol, England, Colston Hall
May 11, 1966 Cardiff ,Wales, Capitol Theatre
May 12, 1966 Birmingham ,England, Birmingham Odeon
May 14, 1966 Liverpool, England Odeon Theatre
May 15, 1966 Leicester, England, De Montfort Hall
May 16, 1966 Sheffield, England Gaumont Theatre
May 17, 1966 Manchester, England, Free Trade Hall
May 19, 1966 Glasgow, Scotland, Odeon Theatre
May 20, 1966 Edinburgh, Scotland, ABC Theatre
May 21, 1966 Newcastle, England, Newcastle Odeon
May 24, 1966 Paris, France L'Olympia (There was a special programme for this concert)
May 26, 1966 London, England, Royal Albert Hall
May 27, 1966 London, England, Royal Albert Hall
The leg known as 'UK Tour' started on May 5th, 1966 in Dublin, visited Belfast, Bristol, Cardiff, Birmingham, Liverpool, Leicester, Sheffield, Manchester, Glasgow, Edinburgh, Newcastle, and ended in London on May 27th 1966.
Here are some documents relative to this tour.
Below: concert ads
Some tickets (http://dylanstubs.com):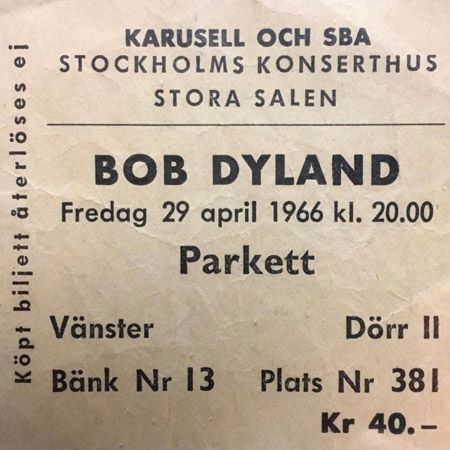 Stockholm for Bob Dyland!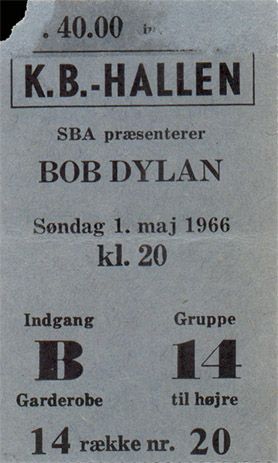 Copenhagen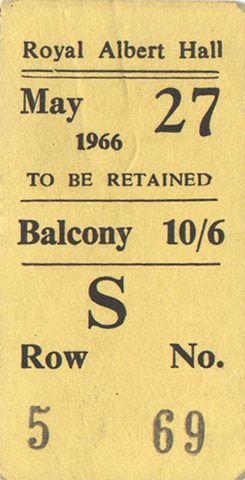 London, Royal Albert Hall

Below: the famous 14 page 1966 Tour programme; it features advertisements, biographical text, a listing of tour dates, a variety of uncommon images, and a dedicated area for the concertgoer to document Dylan's set list: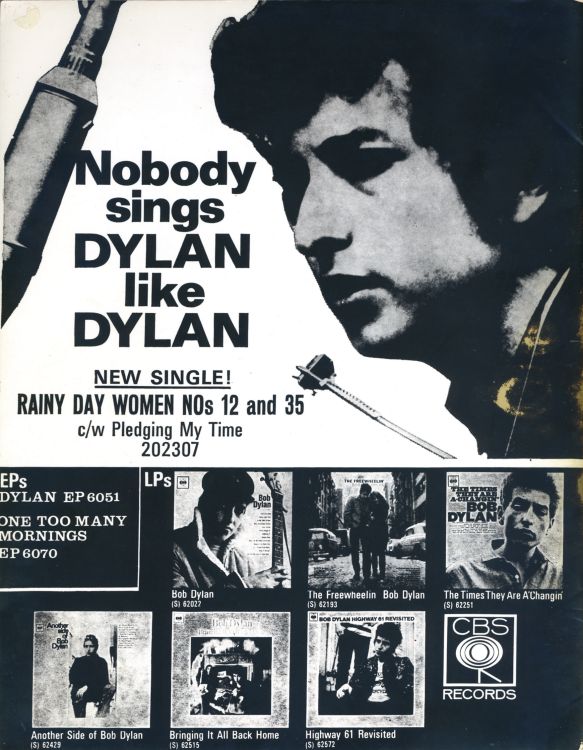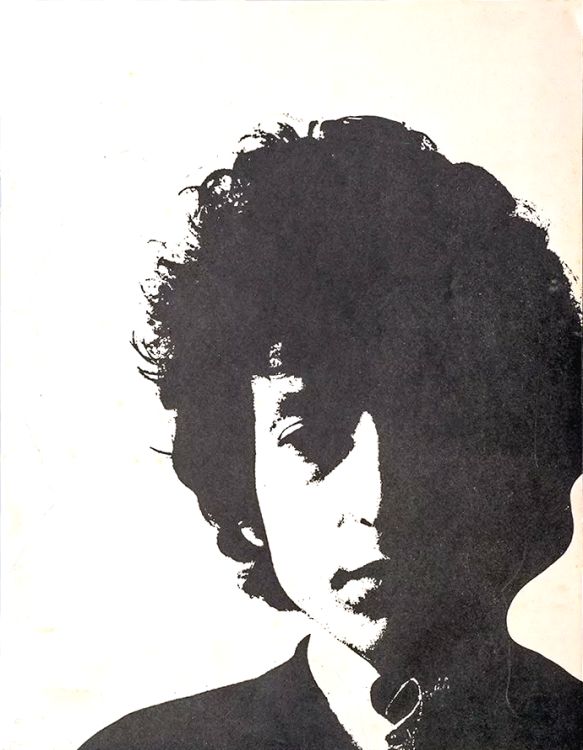 front and back covers, inside pages below: