A MUSICAL TRIBUTE TO WOODY GUTHRIE
20 January 1968, CARNEGIE HALL, NEW YORK CITY
The famous New York venue, situated on the 5th Avenue; 3,671 seats divided in three auditoriums.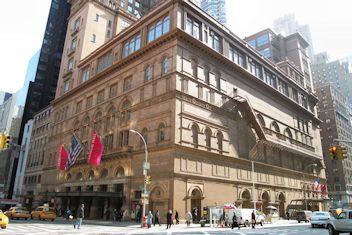 On January 20, 1968, three months after Guthrie's death, Harold Leventhal produced A Musical Tribute To Woody Guthrie at New York City's Carnegie Hall, starring, among others, Joan Baez, Judy Collins, Bob Dylan, Jack Elliott, Arlo Guthrie, Richie Havens, Pete Seeger, Tom Paxton, and Odetta. There were two shows on January 20: one at 3:00, the other at 8:00 PM.
Below: Programme, front cover and 2 pages. Source: https://swinginpiggy.wordpress.com/concert-programs