SINGAPORE 15 April 2011, Marina Promenade, Timbre Rock & Roots Festival
Marina Promenade is a park in Singapore that links Kallang Riverside Park in the north to Esplanade - Theatres on the Bay in the south. The entire park is situated on the western bank of the Kallang Basin and Marina Channel, along Republic Avenue and Republic Boulevard.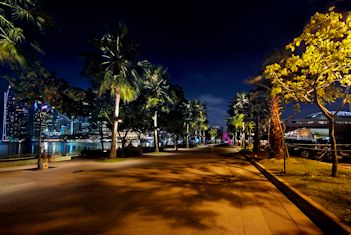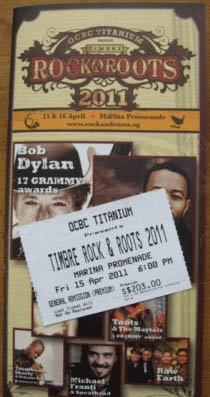 Programme with the ticket stub.
Gonna Change My Way Of Thinking
It Ain't Me, Babe
Beyond Here Lies Nothin'
Tangled Up In Blue
Honest With Me
Simple Twist Of Fate
Tweedle Dee & Tweedle Dum
A Hard Rain's A-Gonna Fall
Highway 61 Revisited
Love Sick
Thunder On The Mountain
Ballad Of A Thin Man,
Like A Rolling Stone
Forever Young