BLACKBUSHE AERODROME, UK, 15 July 1978
The Picnic At Blackbushe Aerodrome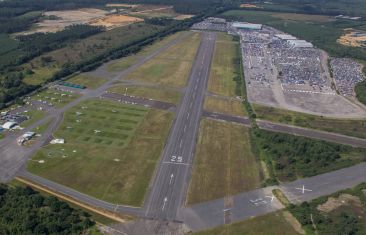 Blackbushe Aerodrome is an operational general aviation airport
located in the South of England, at Camberley,county of Hampshire.
"Reputedly the biggest ever audience for Bob Dylan (although Isle Of Wight 1969 would have been close in the running stakes), THE PICNIC AT BLACKBUSHE was also one of the biggest ever events staged by promoter Harvey Goldsmith (of Crystal Palace Garden Party fame). This time round Goldsmith continued the 'English Country garden' theme he had adopted for Crystal palace and applied it to Blackbushe.
Unfortunately the Aerodrome was not anywhere near as picturesque as the verdant surroundings of Crystal Palace, it was, like almost all aerodromes, flat and featureless, and when the 200,000 plus punters had managed to cram themselves into its confines, if you were up the back there wasn't a great deal to see really, as there were no video screens". More information here.
See the setlist and video below.
Here are some memorabilia of the concert: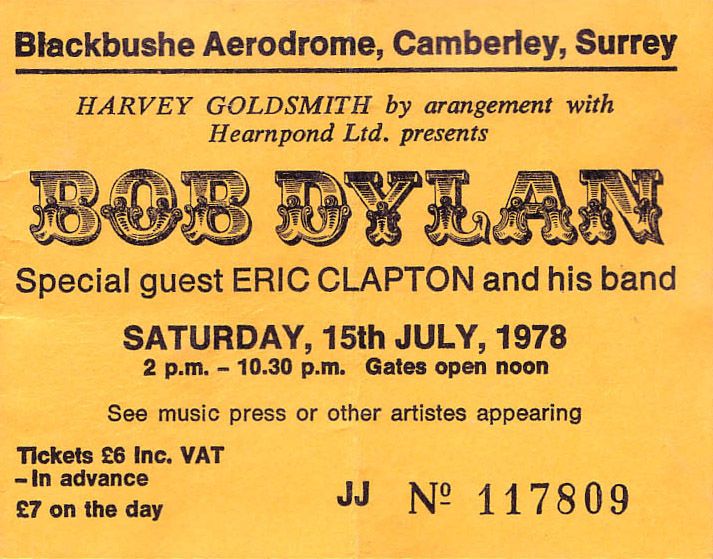 Ticket
Below: The Official Programme, specially produced for the event, has 40 A4 pages on glossy paper with photos and articles; there are 13 pages on Bob Dylan.
An unofficial 20-page programme was sold, with only photos and no reading matter:
Set list:
My Back Pages (instrumental)
Love Her With A Feeling
Baby, Stop Crying
Just Like Tom Thumb's Blues
Shelter From The Storm
It's All Over Now, Baby Blue
Girl Of The North Country
Ballad Of A Thin Man
Maggie's Farm
Simple Twist Of Fate
Like A Rolling Stone
I Shall Be Released
Is Your Love In Vain
Where Are You Tonight
A Change Is Gonna Come (vocal Dennis)
Mr. Tambourine Man (vocal Springs)
The Long And Winding Road (vocal Harris)
Laissez-faire (vocal Soles)
Gates Of Eden
True Love Tends To Forget
One More Cup Of Coffee (Valley Below)
Blowin' In The Wind
I Want You
Señor (Tales Of Yankee Power)
Masters Of War
Just Like A Woman
To Ramona
Don't Think Twice, It's All Right
All Along The Watchtower
All I Really Want To Do
It's Alright, Ma (I'm Only Bleedin')
Forever Young
Changing Of The Guards
The Times The Are A-Changin'