BONNAROO MUSIC AND ARTS FESTIVAL,
Manchester, Tennessee, 11-13 June 2004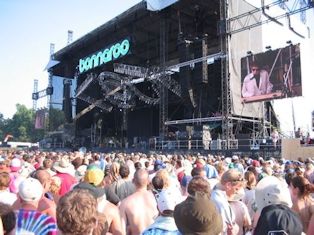 The Bonnaroo Music and Arts Festival is an American annual four-day music festival developed and produced by Superfly Presents and AC Entertainment. Since its first year in 2002, it has been held at what is now Great Stage Park on a 700-acre (280 ha) farm in Manchester, Tennessee. The festival typically starts on the second Thursday in June and lasts four days.

Bob Dylan performed at the Bonnaroo Music and Arts Festival on June 11th 2004. Here is the set list:
Down Along the Cove
Tell Me That It Isn't True
Samson and Delilah
Watching the River Flow
You Win Again
Cold Irons Bound
Sing Me Back Home
Most Likely You Go Your Way (and I'll Go Mine)
Highway 61 Revisited
Pancho and Lefty
Seeing the Real You at Last
Blind Willie McTell
Honest with Me
Don't Think Twice, It's All Right
Summer Days
Cats in the Well
Like A Rolling Stone
Below: programme of the Festival.