NIGHT OF THE HURRICANE II, Houston, Texas,
NRG Astrodome, 25 January 1976
The NRG Astrodome, also known as the Houston Astrodome, was in 1965 the world's first multi-purpose domed sports stadium. Due to many security problems, it is now closed to the public.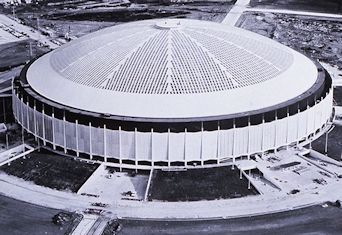 Concert program for the Bob Dylan/Rolling Thunder Review concert The Night of the Hurricane II, a benefit concert for Ruben "Hurricane" Carter. Also on the bill were Stevie Wonder, Isaac Hayes, Dr. John, Shawn Phillips, and the "special guests" included Ringo Starr, Stephen Stills, Richie Havens, Carlos Santana and more. The backing band featured Mick Ronson, T Bone Burnett, Howie Wyeth and others.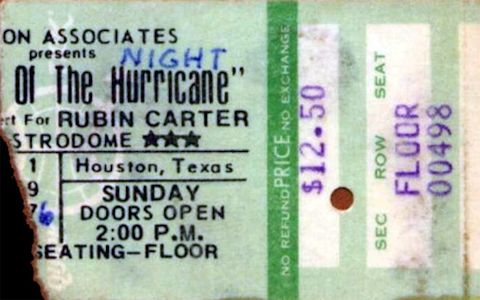 Ticket (http://dylanstubs.com)
Below: The 4 page program measures 8 1/2" x 11" folded.
When I Paint My Masterpiece
Maggie's Farm
One Too Many Mornings
Romance In Durango
I Threw It All Away
Isis
Positively 4th Street
It's All Over Now, Baby Blue (acoustic)
Oh, Sister
One More Cup Of Coffee (Valley Below)
Sara
Lay Lady Lay
Just Like A Woman
Hurricane