FLEADH FESTIVAL 2004, London, Finsbury Park
Finsbury Park is an area on the northern edge of Inner London, England, which grew up around an important railway interchange near the borders of the Boroughs of Islington, Haringey and Hackney.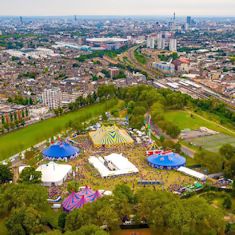 In the 1990's the Fleadh Festival in Finsbury Park used to welcome only Irish artists such as Paul Brady, Christy Moore, The Dubliners and Mary Coughlan, and was topped by Celtic Soul touchstone Van Morrison. In 2004 it was more than usually dependent on its headliner, Bob Dylan.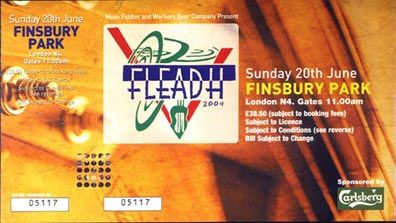 Ticket
Programme: 28 pages, 2 on Bob Dylan
Down Along the Cove
It's All Over Now, Baby Blue
Lonesome Day Blues
Maggie's Farm
Desolation Row
Seeing the Real You at Last
Positively 4th Street
Tweedle Dee & Tweedle Dum
High Water (For Charley Patton)
Highway 61 Revisited
Not Dark Yet
Honest With Me
Boots of Spanish Leather
Summer Days
Like a Rolling Stone