NEW YORK CITY, Carnegie Hall, 1st October 1965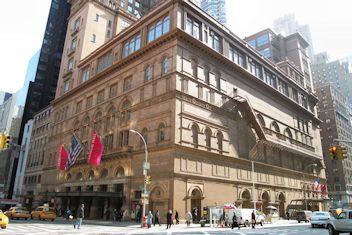 The famous New York venue, situated on the 5th Avenue; 3,671 seats divided in three auditoriums.
Bob Dylan played there, alone and with his electric band, on 1st October 1965.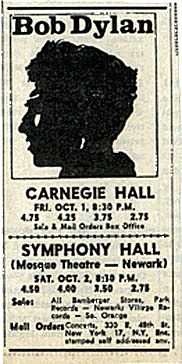 ad for the Concert
The 22-page programme for the Season 1965-1966 contains details for upcoming performances, including Bob Dylan's, along with various information about other performers and advertisements.
Below: back and front cover, Dylan pages (12 & 13).
Here is the set list of the concert:
Acoustic set: Bob Dylan (vocal, harmonica & acoustic guitar)
She Belongs To Me
To Ramona
Gates Of Eden
Mr. Tambourine Man
Love Minus Zero/No Limit
Desolation Row
It's All Over Now, Baby Blue
Electric set: Bob Dylan (vocal, harmonica & electric guitar), Robbie Robertson (electric guitar), Garth Hudson (organ), Richard Manuel (piano), Rick Danko (bass), Levon Helm (drums).
Maggie's Farm
I Don't Believe You (She Acts Like We Never Have Met)
Can You Please Crawl Out Your Window?
Just Like Tom Thumb's Blues
Tombstone Blues
It Ain't Me, Babe
Positively 4th Street
Ballad Of A Thin Man
Like A Rolling Stone