BOB DYLAN IN HIS FIRST NEW YORK CONCERT. Carnegie Chapter Hall, Saturday November 4, 1961.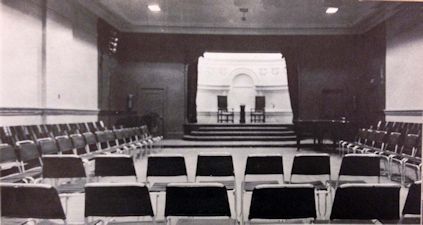 The Carnegie Chapter Hall was located at the 5th floor of Carnegie Hall in New York. 53 tickets were sold for the concert, while the hall could have held 200.
"Billed as Dylan's 'First New York Concert' it was, more accurately, Dylan's first concert anywhere. Prior to this show he'd only played club dates and a few guest spots on multi-artist bills. Dylan arrived in New York on January, 21, 1961 and began playing hoots at clubs like Gerdes Folk City almost immediately. His first 'break' was a two weeks stint opening for blues giant John Lee Hooker at Gerdes in April of that year. On September 26, Dylan began another two week engagement at the club, opening for the much better known Greenbriar Boys. Though Dylan was the opening act, New York Times music critic Robert Shelton focused entirely on Dylan in his review of the opening night. The impact was immediate, and a few days later Dylan was signed to Columbia Records by legendary A&R man John Hammond (who had discovered/signed Benny Goodman, Billie Holiday, Aretha Franklin, Count Basie, and later Bruce Springsteen and Stevie Ray Vaughan.)
Five weeks later, Izzy Young presented Dylan 'In His First New York Concert' at Carnegie Chapter Hall, a 200 seat room that was part of the Carnegie Hall complex. Reportedly only 53 people attended, but it was the start of a touring career that continues today. Dylan expert Clinton Heylin notes that he sounded 'extremely nervous and uncertain of himself'.
Bob Dylan performed 22 songs at the Chapter Hall concert on 4 November 1961. The first seven songs were already into circulation among collectors when five additional songs appeared in December 2004; a further two (Talking Merchant Marine and Talking New York) turned up in May 2008. He Was A Friend Of Mine surfaced in November 2021, sixty years after the concert, when the tape of the performance was purchased by the Bob Dylan Center in Tulsa.
Six songs (noted *) are still uncirculating:
Pretty Peggy-O
In the Pines
Gospel Plow
1913 Massacre
Backwater Blues
A Long Time A-Growin'
Fixin' to Die
San Francisco Bay Blues *
Riding In My Car *
Talkin' Bear Mountain Picnic Massacre Blues
Man On The Street
Sally Girl *
This Land Is Your Land
Talking Merchant Marine (Talking Sailor)
Black Cross
He Was A Friend Of Mine
Pretty Polly *
House of the Rising Sun *
The Cuckoo Is A Pretty Bird *
Freight Train Blues
Song To Woody
Talkin' New York
The handbill / program below, an 8 1/2" x 11" sheet printed on both sides and folded in half, was distributed in advance of the show by Izzy Young in an effort to drum up attendance. It features a ridiculous biographical sketch of Dylan, drawn from an interview he gave to Young. Dylan exaggerates for effect, claiming he got his start playing in carnivals, was raised in Gallup New Mexico, and was given a scholarship to the University of Minnesota "all completely untrue". Information Recordmecca.
Very simple programme: 4 pages, just a 20,5 cm x 27 cm folded sheet of paper.

Put your pointer on the image to see back/front and inside: