EAST BERLIN, East Germany, 17 September 1987
Treptower Festwiese, Friedenskonzert Der FDJ


The concert took place in the Treptower Park, a park alongside the river Spree in Alt-Treptow, in the district of Treptow-Köpenick, south of central Berlin. In 1987 it was a part of East-Berlin.
Two years before the fall of the Wall, a rock concert in East Berlin was a big event. Also on the bill were Tom Petty and Roger McGuinn. The concert was originally intended for the Waldbühne in West Berlin but due to poor ticket sales promoter Fritz Rau offered the event to the East German Künstleragentur. No less than 70,000 people turned up at the Treptower Festwiese. (http://wearytune.com/product/dylan-bob-9/)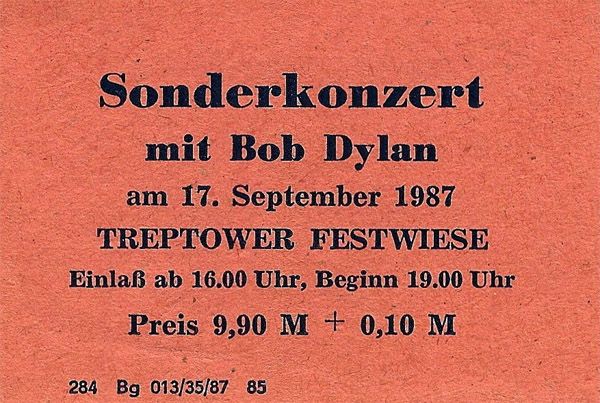 Ticket for the concert.
The programme below was a large sheet of paper folded to a 8 page A4 size: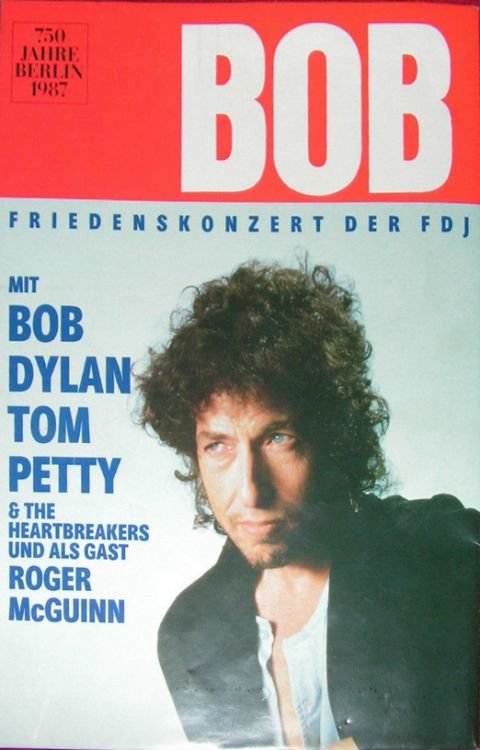 folded programme, front and back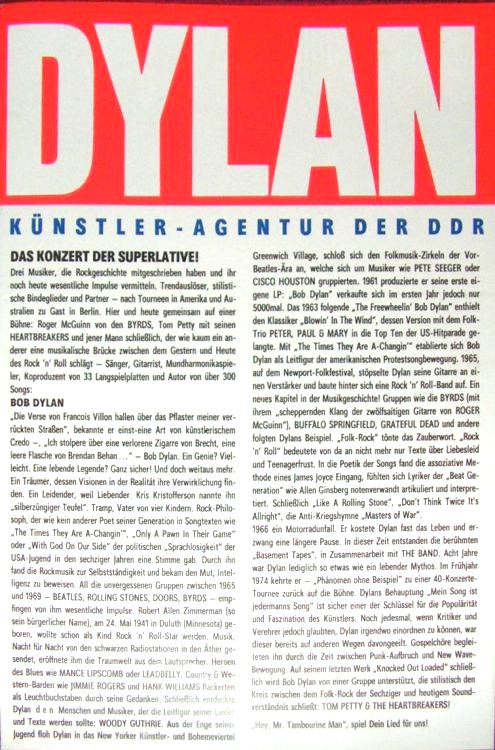 Below: See how the Stasi (East Germany security service) estimated the concert in Treptower Park: (Source of the documents and texts: Stasi Unterlagen Archiv.
| | | |
| --- | --- | --- |
| | | In a first "Information" the department XX summarizes the general conditions around the planned concert with Bob Dylan. In particular, "older young people and middle-aged people" would use the opportunity to see the "so-called old master of rock" live during his "one-time appearance" in the GDR. (Double-click to read the text) |
| | | The Ministry of the Interior informed the Stasi about the success of the "security measures" around the concert. From the point of view of the MdI, there were no "provocative-demonstrative actions" by the concert visitors. Six people were tried for "disturbing socialist coexistence" and a preliminary investigation for insult.. (Double-click to read the text) |
Bob Dylan set list:
When The Night Comes Falling From The Sky
I'll Be Your Baby Tonight
Maggie's Farm
Simple Twist Of Fate
Dead Man, Dead Man
Ballad Of A Thin Man
Shelter From The Storm
Highway 61 Revisited
I Dreamed I Saw St. Augustine
Rainy Day Women # 12 & 35
I And I
Like A Rolling Stone
Blowin' In The Wind
In The Garden