BADEN-BADEN, Germany, 29 April 2018,
Festspielhaus Baden-Baden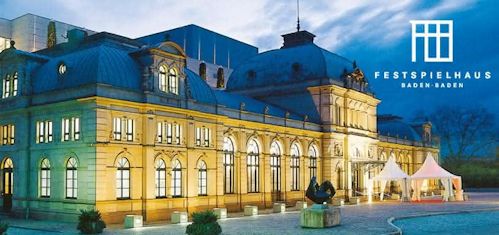 The Festspielhaus Baden-Baden is Germany's largest opera and concert house, with a 2,500 seat capacity.
The building was originally built in 1904 as Baden-Baden central railway station. This building replaced the original railway station which was constructed in 1845 as a part of branchline which connecting Baden-Baden station in the western outskirt and the city center. The building served as a railway station for several decades until the closure of the branchline in 1977.
The new construction was architecturally integrated with the former Baden-Baden railway station,
and was opened on 18 April 1998.

The programme below was especially issued for the April 20 2018 concert in Baden-Baden; 15 pages, German language, 20,5 cm x 15 cm. Thank you to Wil Gielen for the scan and information.
Put your pointer on the image to see the front/back: