1998 GLASTONBURY PERFORMING ARTS FESTIVAL, Pilton, England, 28 June 1998.
Glastonbury Festival is a five-day festival of contemporary performing arts that takes place at Worthy Farm, near Pilton, Somerset, England. In addition to contemporary music, the festival hosts dance, comedy, theatre, circus, cabaret, and other arts. Leading pop and rock artists have headlined, alongside thousands of others appearing on smaller stages and performance areas.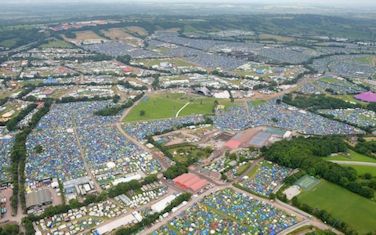 The programme, '£5 from vendor, free with purchased ticket', was presented in a plastic bag (right): 'Festival Guide and pen', with information against drugs.
Pyramide Stage:
Leopard-Skin Pill-Box Hat
Señor (Tales Of Yankee Power)
Cold Irons Bound
Just Like A Woman
Silvio
Cocaine Blues (acoustic w band)
Masters Of War (acoustic w band)
Tangled Up In Blue (acoustic w band)
Highway 61 Revisited
Love Sick
Rainy Day Women # 12 & 35
Blowin' In The Wind (acoustic w band)