PORTLAND, Oregon, 15 June 2000, Roseland Theater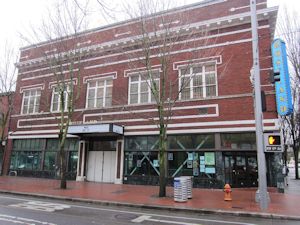 The Roseland Theater, sometimes called the Roseland Theater and Grill, is a music venue located at 8 Northwest Sixth Avenue in the Old Town Chinatown neighborhood of Portland, Oregon, in the United States.
The building was originally a church, constructed by the Apostolic Faith Church in 1922.
In 1982, Larry Hurwitz converted the building to a music venue called Starry Night.
The venue was given its current name during the 1991 ownership transfer. During the 1990s, Double Tee acquired control of the hall's operations, then purchased and renovated the building.
The theater features a standing-only main floor and an upstairs balcony with an adjacent bar. Peter's Room, an intimate showcase venue with a 400-person capacity, includes a restaurant and bar.
The venue is known for hosting a variety of music acts and for its good acoustics.
Bob Dylan performed in the Roselnad Theater on 15 June 2000.
Below is the programme "Burning Down The House" that was specially printed for the event: limited to 100 copies only, published by Rocking Lantern Studios, A5 sized fold-out card made to write the setlist of the show: inside is only printed 'The Evening Setlist'. Thank you to Peter Koehler for the scan and information.
This is "the evening setlist" as it could have be writen inside the programme:
Duncan And Brady
To Ramona
Masters Of War
Ring Them Bells
Tangled Up In Blue
Searching For A Soldier's Grave
Country Pie
Standing In The Doorway
Crash On The Levee (Down In The Flood)
Things Have Changed
Drifter's Escape
Leopard-Skin Pill-Box Hat
All Along The Watchtower
Like A Rolling Stone
Girl From The North Country
She's About A Mover
Rainy Day Women #12 & 35
Don't Think Twice, It's All Right