BRANDEIS UNIVERSITY, Friday 10 May, 1963,
CREATIVE ARTS FESTIVAL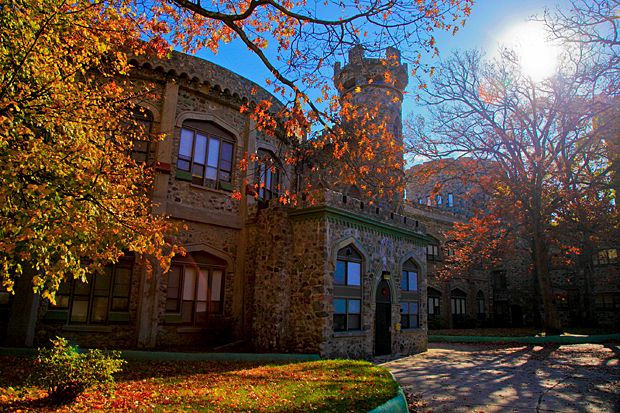 Brandeis University is a private research university in Waltham, Massachusetts. Founded in 1948 as a non-sectarian, coeducational institution sponsored by the Jewish community, Brandeis was established on the site of the former Middlesex University. The university is named after Louis Brandeis, the first Jewish Justice of the U.S. Supreme Court.
The CREATIVE ARTS FESTIVAL took place there from May 5-12, 1963. It was co-produced by the student newspaper The Justice. Bob Dylan appeared on Friday, May 10 at 8:30 PM. The program explains with an asterisk that this gig was "Presented by Folklore Productions."
On the bill with Dylan was Jesse Fuller, who wrote You're No Good, the first track on Dylan's debut album the year before. Also present were Jean Redpath, Don Stover and the Lilly Bros. and the Silver Leaf Gospel Singers.
This was not a folk festival; although Pete Seeger appeared the following evening, all the other presentations were in various fields of the arts, such as a screening of the movie Hamlet and a Japanese music and dance performance, to name just two.
Dylan's girlfriend Suze Rotolo, folksinger Eric Von Schmidt and New York Times writer Robert Shelton were all present for the show. (Information and image of the programme: Heritage Auctions)

A recording of the concert was found in the basement of San Francisco critic Ralph Gleason, a co-founder of ROLLING STONE magazine, after Gleason's death, and was issued in 2010 by Columbia Records. It was first offered as a bonus disc with either THE BOOTLEG SERIES VOL.9 - THE WITMARK DEMOS: 1962-1964 or Dylan's THE ORIGINAL MONO RECORDINGS, and officially released in April 2011.
Honey, Just Allow Me One More Chance

Talkin' John Birch Paranoid Blues

Ballad of Hollis Brown

Masters of War

Talkin' World War III Blues

Bob Dylan's Dream

Talkin' Bear Mountain Picnic Massacre Blues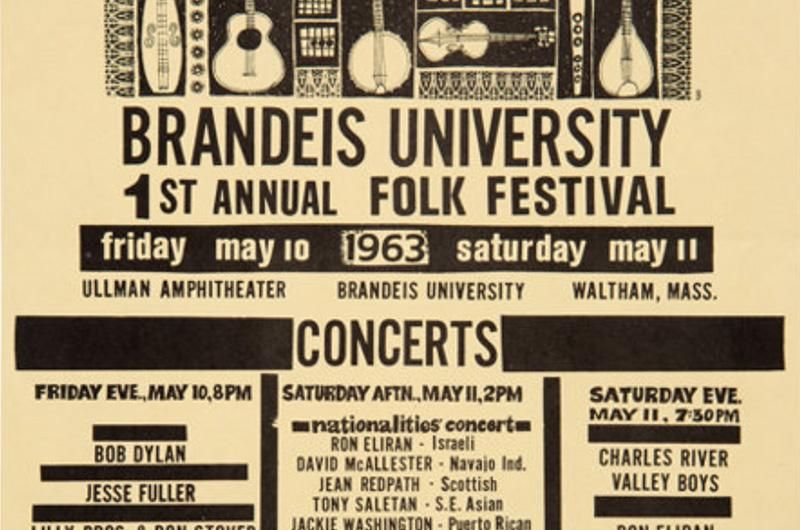 flyer (part). Vineyard Gazette: read more about the event, by Arnie Reisman who was there.


Below: The 1963 Brandeis University Festival Concert 8 page programme; it measures 5 1/2" x 8 5/8" (before opening up), and was printed in an unusual configuration: when opened up, the next two pages are somewhat shorter than the cover, but then the whole thing opens up into an 11" x 16" day-by-day schedule that could be posted on a bulletin board. But elsewhere inside, there are three paragraphs describing the concept behind the festival, and a page of credits.

Put your pointer on the image to see the inside page: