MERSEYSIDE DYLAN, UK
Aka 'Merseyside dylan' without capitalization on the D in the 1998 issue, it ran from 1995-1998. No editor: contributions were collated but not edited as such.
Main collation and publication by John Thorndike and Chris Hockenhull, original artwork by the Liverpool Echo political cartoonist Peter King. Included reviews of all shows on the UK leg of the tours of those years, photographs (b&w - limited), artwork, setlists, poetry, anecdotes about problems with venue security and meeting interesting people along the way.
It is an interesting mixture of amateur fan recollections and professional writing. Because contributions were collated, the font and style of each article is the original submission and all are different.
Information: Fast Flyin' Train... Missing scans requested.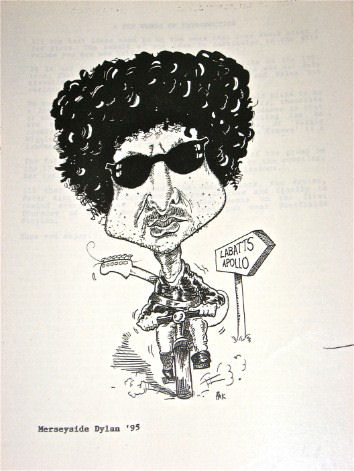 #?, 1995