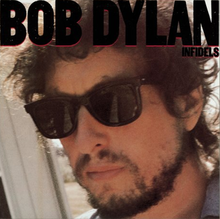 BOB DYLAN: INFIDELS (1983).
Infidels is the twenty-second studio album by Bob Dylan, released on October 27, 1983 by Columbia Records. Produced by Mark Knopfler and Dylan himself, Infidels is seen as his return to secular music, following a conversion to Christianity, three evangelical, gospel records and a subsequent return to a less religious lifestyle. Though he has never entirely abandoned religious imagery, Infidels gained much attention for its focus on more personal themes of love and loss, in addition to commentary on the environment and geopolitics. Christopher Connelly of Rolling Stone called those gospel albums just prior to Infidels "lifeless", and saw Infidels as making Bob Dylan's career viable again. According to Connelly and others, Infidels is Dylan's best poetic and melodic work since Blood on the Tracks.
Warner Bros Publications Inc.
Amsco Music Publishing Co. 1983. Piano/vocal/guitar arrangements, 36 pages