BOB DYLAN WITH TOM PETTY + THE HEARTBREAKERS
-TEMPLES IN FLAMES TOUR -EUROPEAN TOUR 1987
The tour started with two concerts in Israel as well as covering various European countries culminating in four concerts at Wembley Arena in London, England. Roger McGuinn was the opening act for this tour (who was also supported by Tom Petty and the Heartbreakers).This was the last time that Dylan has toured with Tom Petty, and the last tour before the Never Ending Tour.
Dylan and Petty briefly united in Holmdel, New Jersey in the summer of 2003.
The tickets, handbills and posters of the tour can be seen here.
Programme, 30 pages; the back is the same as the 1986 TRUE CONFESSIONS US programme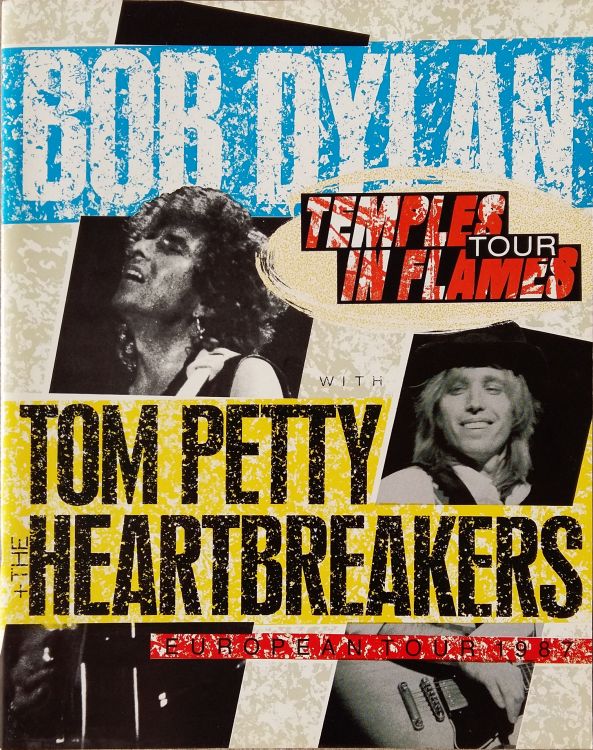 September 10, 1987 Basel Switzerland St. Jakobshalle
September 12, 1987 Modena Italy Area Ex Autodromo
September 13, 1987 Turin Turin Palasport
September 15, 1987 Dortmund Germany Westfalenhalle 1
September 16, 1987 Nuremberg Frankenhalle
September 17, 1987 Berlin Treptow Arena
September 19, 1987 Rotterdam Netherlands Sportpaleis Ahoy
September 20, 1987 Hanover Germany Hannover Messehalle
September 21, 1987 Copenhagen Denmark Valby-Hallen
September 23, 1987 Helsinki Finland Helsinki Jäähalli
September 25, 1987 Gothenburg Sweden Scandinavium
September 26, 1987 Stockholm Johanneshovs Isstadion
September 28, 1987 Frankfurt Germany Festhalle Frankfurt
September 29, 1987 Stuttgart Hanns-Martin-Schleyer-Halle
September 30, 1987 Munich Olympiahalle
October 1, 1987 Verona Italy Verona Arena
October 3, 1987 Rome Roma Palaeur
October 4, 1987 Milan Arena Civica di Milano
October 5, 1987 Locarno Switzerland Piazza Grande
October 7, 1987 Paris France Palais Omnisports de Paris-Bercy
October 8, 1987 Brussels Belgium Forest National
October 10, 1987 Birmingham England NEC LG Arena
October 11, 1987 Birmingham England NEC LG Arena
October 12, 1987 Birmingham England NEC LG Arena
October 14, 1987 London Wembley Arena
October 15, 1987 London Wembley Arena
October 16, 1987 London Wembley Arena