BUMBERSHOOT FESTIVAL, Seattle, Wa., Seattle Center Coliseum, 4-6 September 2010
Seattle Center Coliseum, now KeyArena, is a multi-purpose arena in Seattle. It is located north of downtown in the 74-acre (300,000 m2) entertainment complex known as Seattle Center, the site of the 1962 World's Fair, the Century 21 Exposition.

Bumbershoot is a Seattle Music & Arts Festival.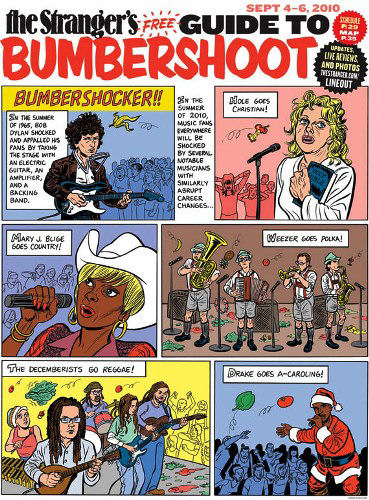 Official Guide to the 3 Days event, 4-6 September 2010.
Bob Dylan and his band performed on 4 September 2010 at Seattle Center Coliseum. Besides a complete guide to the festival it also features extended articles on festival headliners Bob Dylan, Courtney Love reuniting with Hole, Mary J Blige, Rise Against and lots more! 64 pages
Rainy Day Women # 12 & 35
Don't Think Twice, It's All Right
Just Like Tom Thumb's Blues
Just Like A Woman
Rollin' And Tumblin'
Desolation Row
Cold Irons Bound
Tangled Up In Blues
Highway 61 Revisted
Simple Twist Of Fate
Thunder On The Mountain,
Ballad Of A Thin Man
Jolene
Like A Rolling Stone