FLYERS and HANDBILLS for BOB DYLAN CONCERTS and EVENTS.
There are hundreds of these flyers, given away in the shops to advertise a concert or several concerts in a local area. Here is a representative assortment of what exists.

When several items exist for the same event (for example the Isle of Wight Festival), everything is gathered on its Programme page.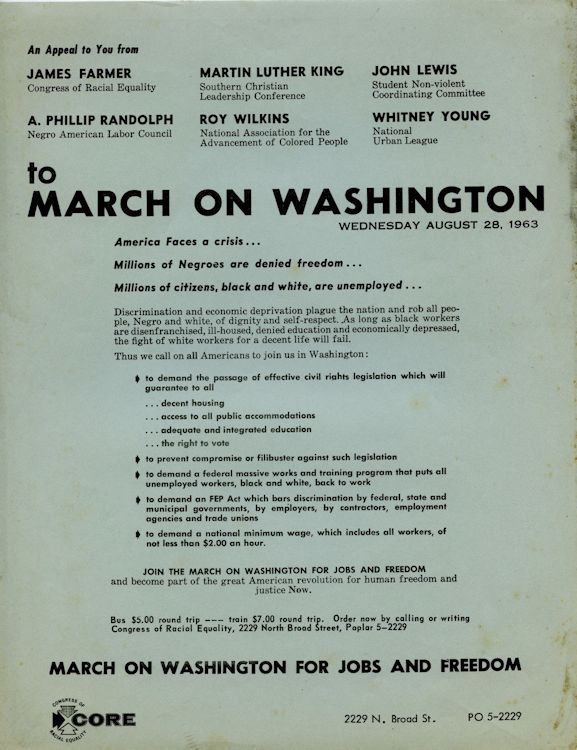 28 Aug 1963, The March On Washington, Washington D.C., Lincoln Memorial. The handbills were printed in several cities in the USA: this one is from Philadelphia, Pa.
Bob Dylan sang 4 songs: When The Ship Comes In, Blowin' In The Wind, Only A Pawn In Their Game and Keep Your Eyes On The Prize (with Len Chandler and Joan Baez).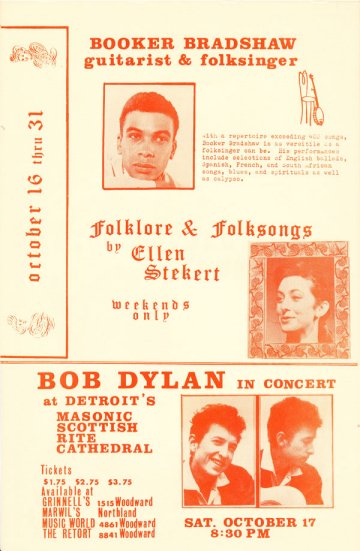 1964, USA, Detroit, Michigan, Masonic Scottish Rite Cathedral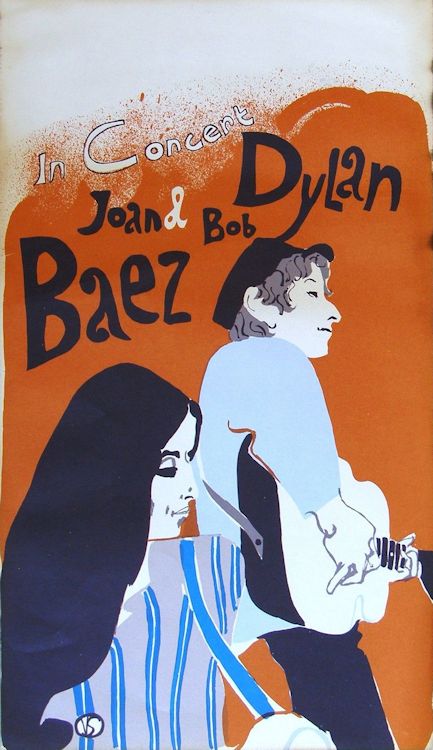 1965, USA, Dylan and Baez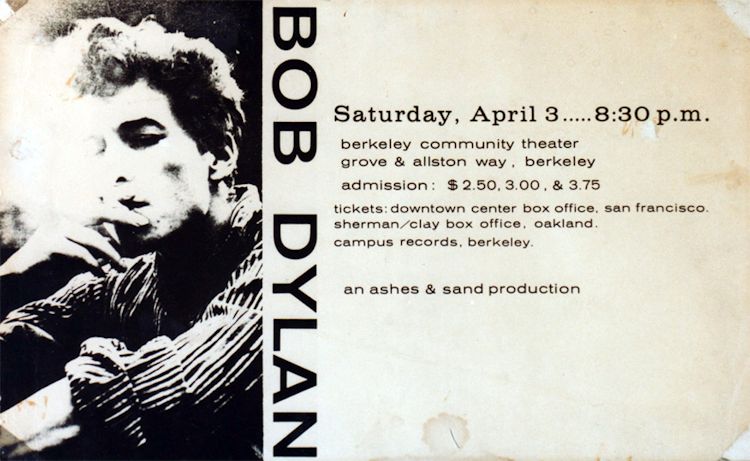 1965, USA, Berkeley Community Theatre, San Francisco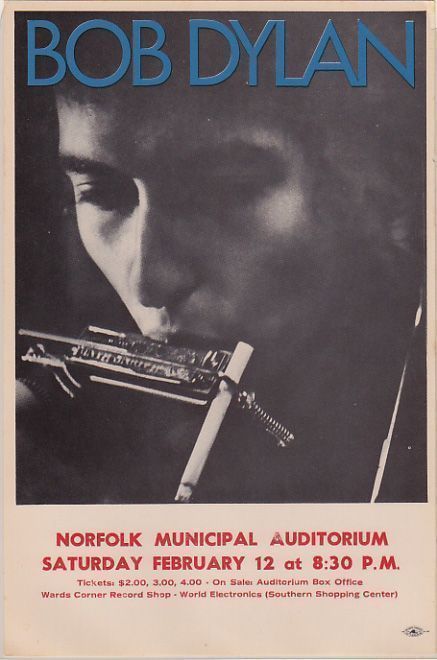 1966, USA, Norfolk, Virginia, Municipal Auditorium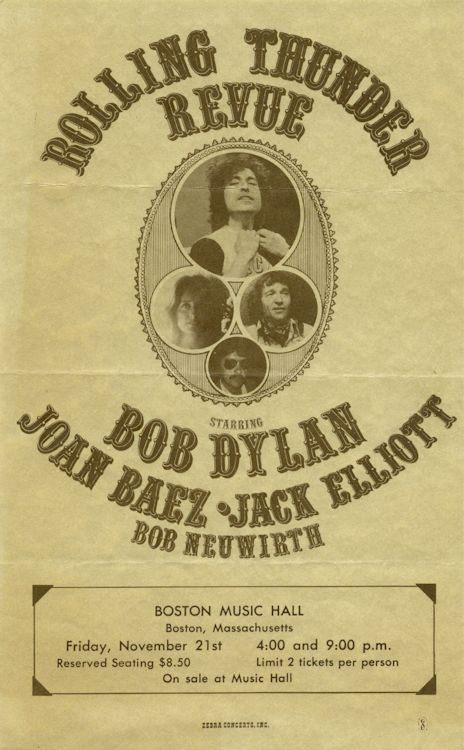 1975, USA, Boston, Music Hall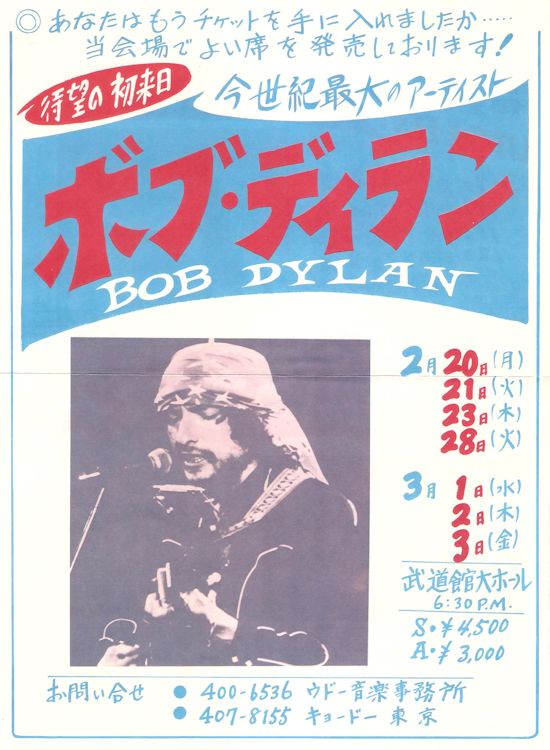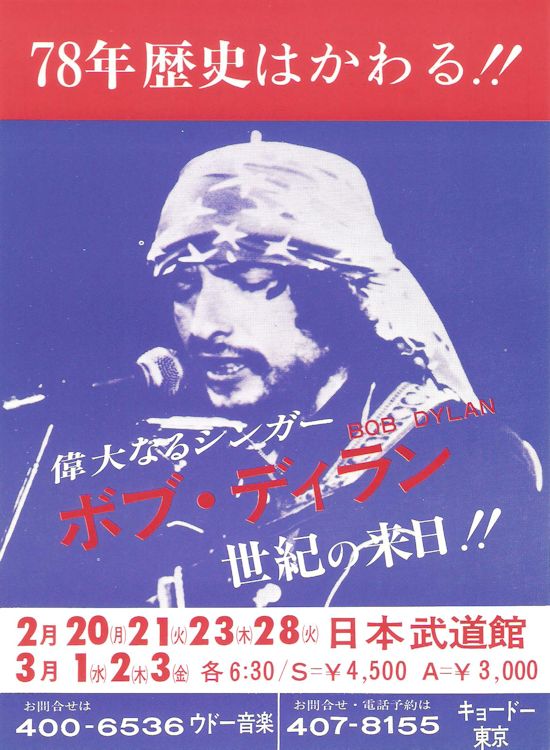 1978, Japan, announcement for seven Tokyo Budokan shows
1978, Germany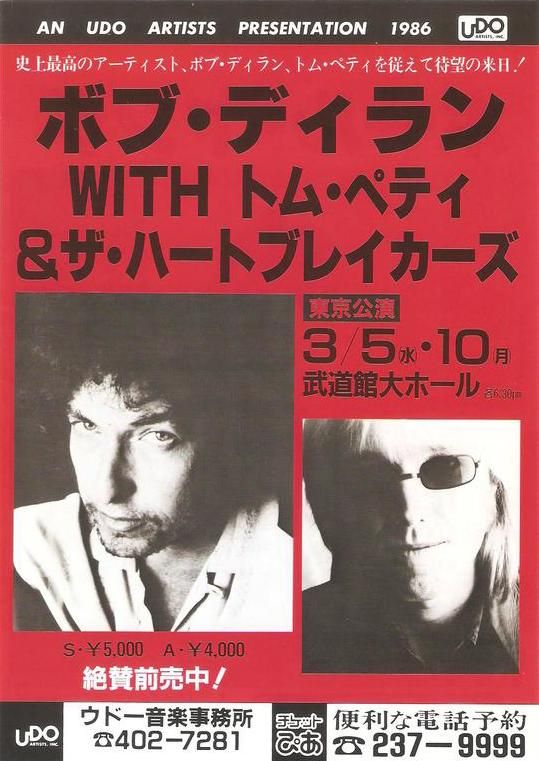 1986, Japan, two-sided handbill, announcement for two Tokyo Budokan shows on 5 and 10 March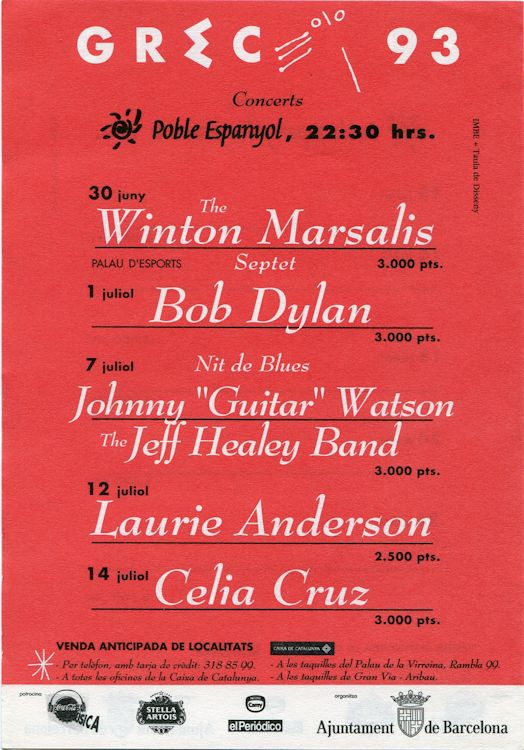 1993, Spain, Barcelona, Grec 93 Festival
1994, Japan for 7 Feb (Yokohama, Bunka Taiikukan) and 8-9 Feb (Tokyo, Nippon Budokan Hall)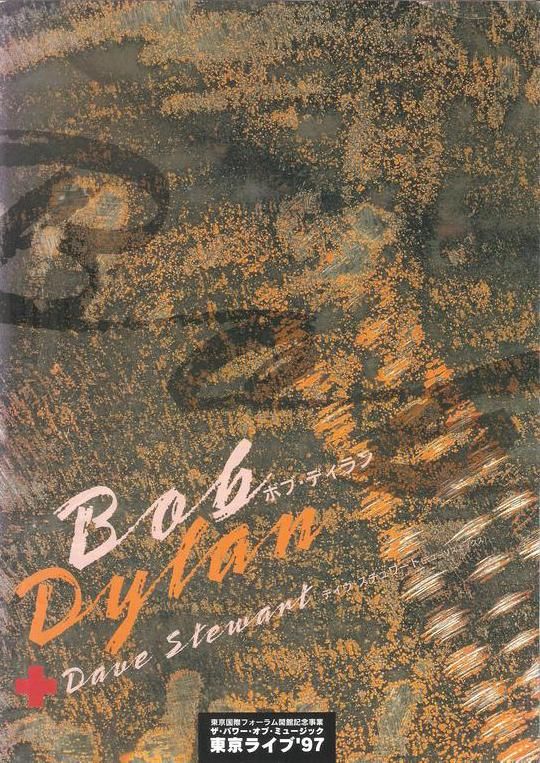 1997, Japan, for 1997 February 9, 10 and 11 concerts (with Dave Stewart and Terry Hall) at the Tokyo International Forum, 4 pages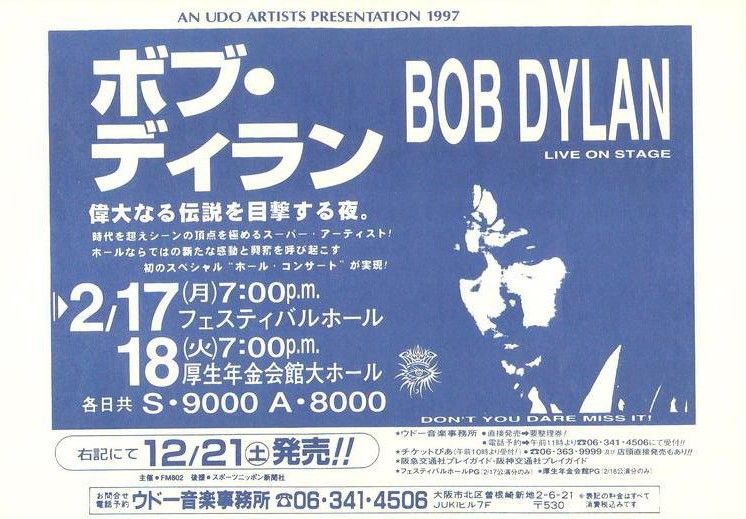 1997, Japan, for two shows in Osaka on February 17 and 18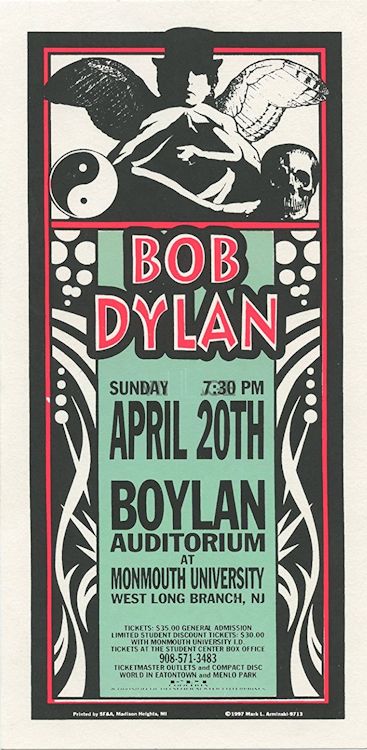 1997, USA, West Long Branch, NJ, Boylan Auditorium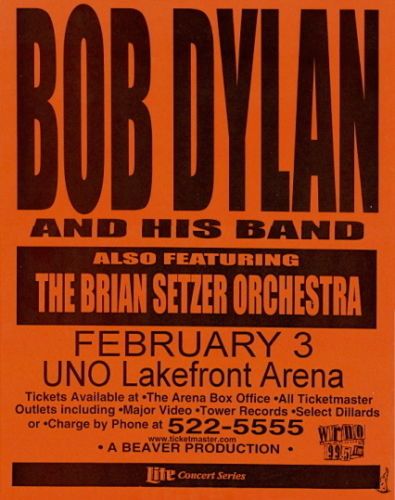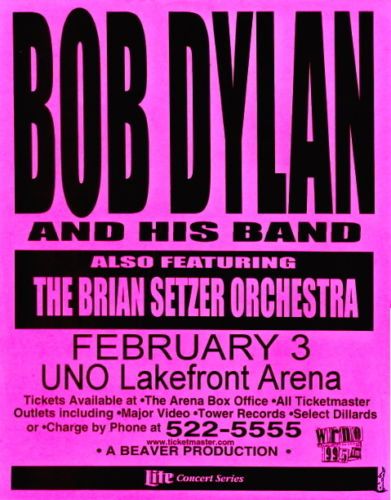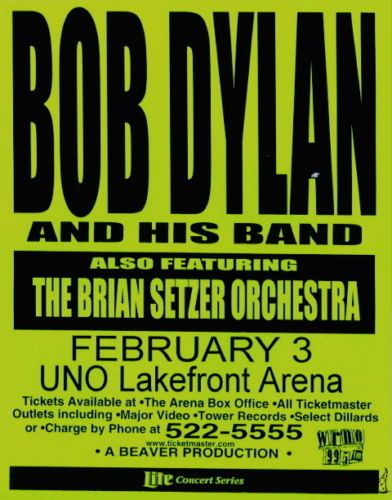 1999, USA, New Orleans, Louisiana, UNO Lakefront Arena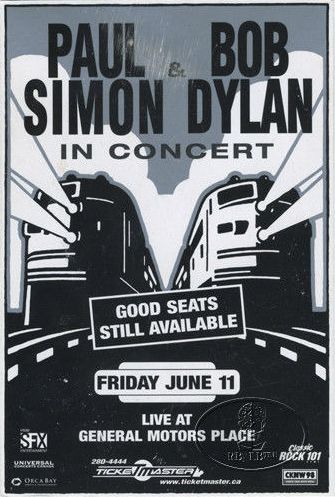 1999, Canada, Vancouver, General Motors Place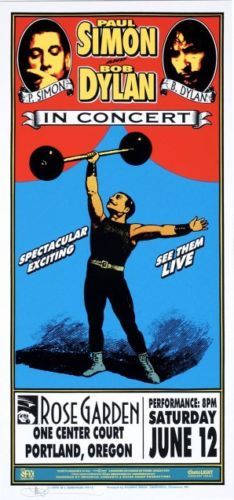 1999, USA, Portland, Oregon, Rose Garden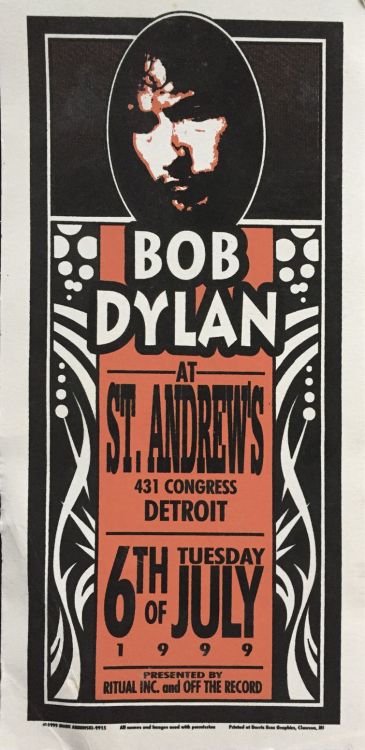 1999, USA, Detroit, Michigan, St Andrew's 431 Congress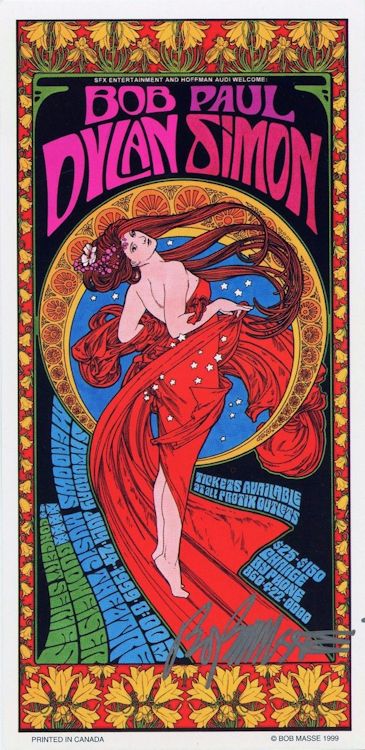 1999, USA, Hartford, Connecticut, Meadows Music Theater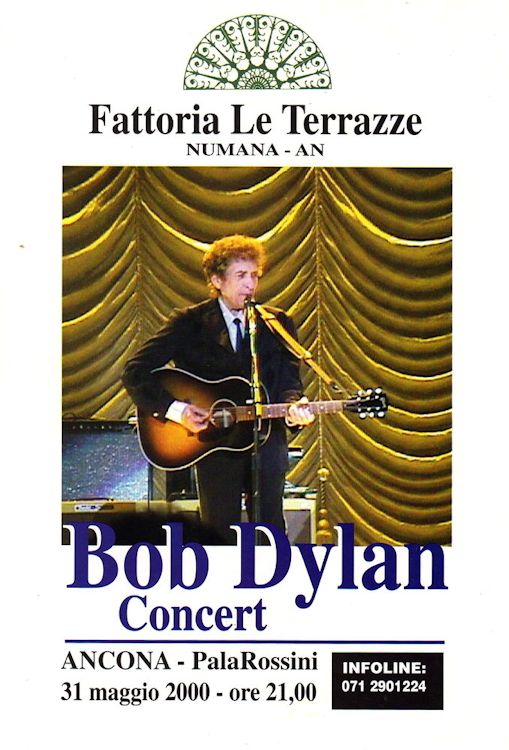 2000, Italy, Ancona, Pala Rossini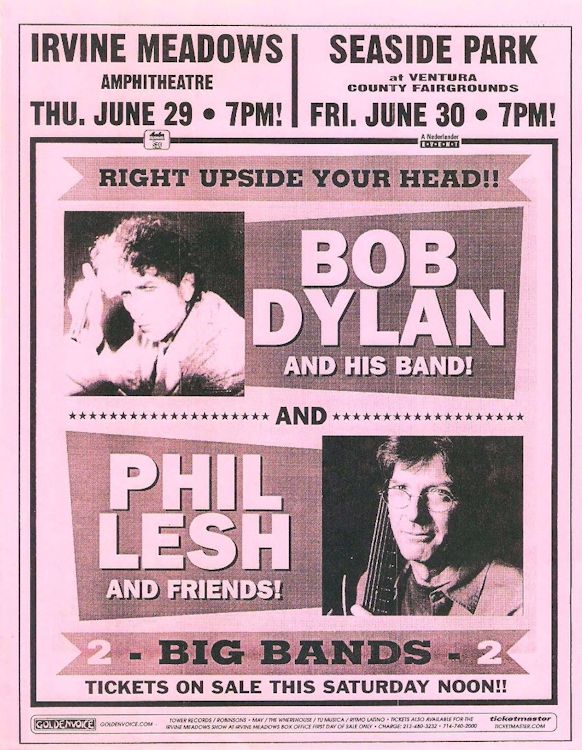 2000, USA, Irvine Meadows, Seaside Park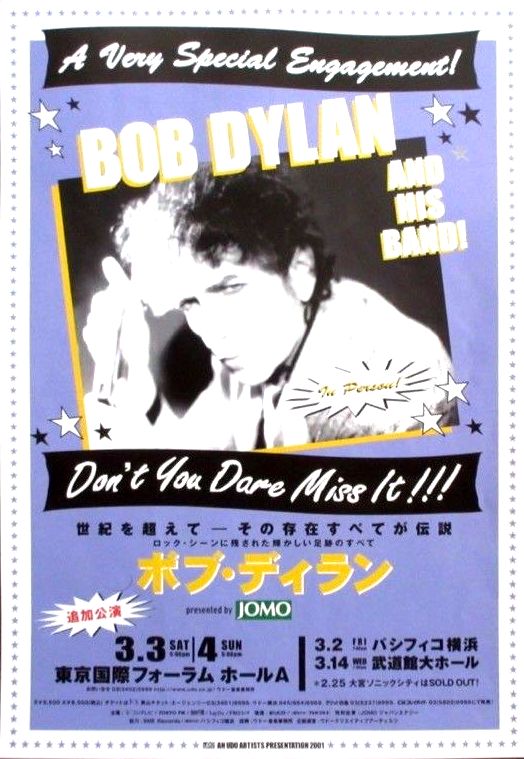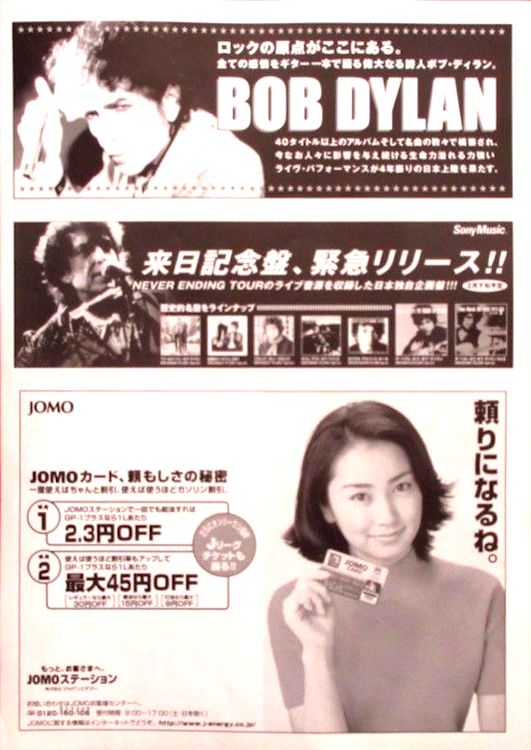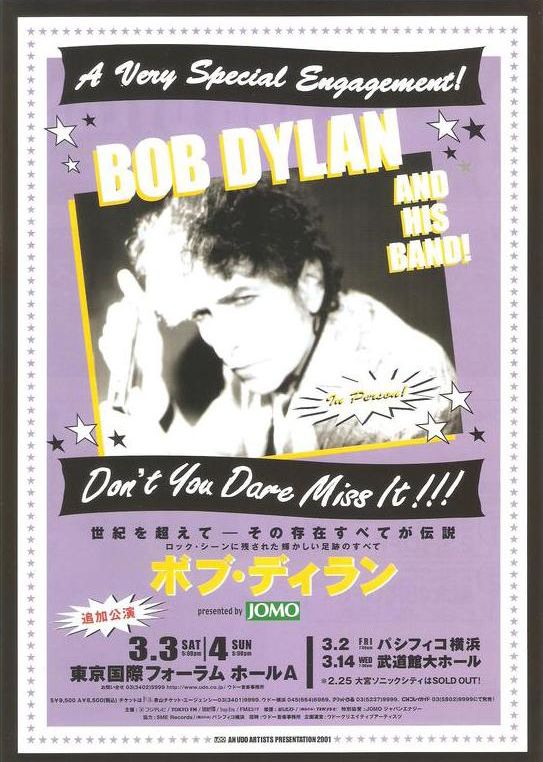 2001, Japan, for shows in Tokyo/International Forum on 3 and 4 March, Yokohama on 2 March, Tokyo/Budokan Hall on 14 March, and Omiya on 25 February (front, back and alternate colour)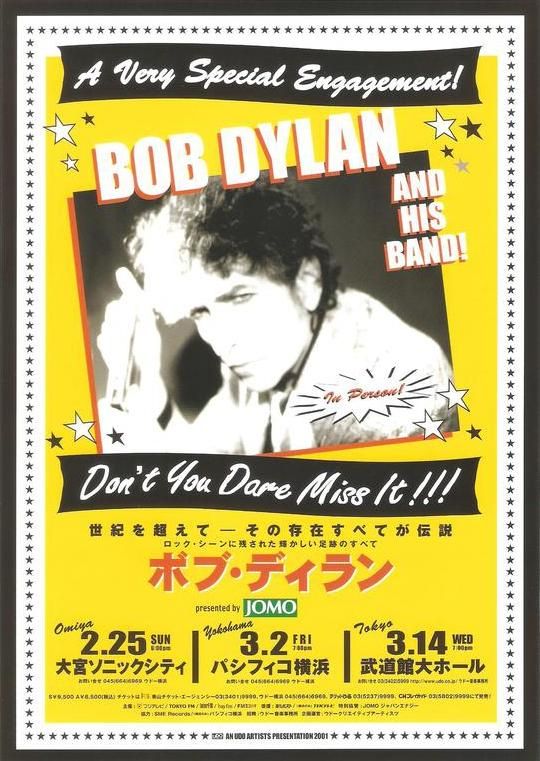 2001, Japan, for shows in Omiya on February 25, Yokohama on 2 March and Tokyo on 14 March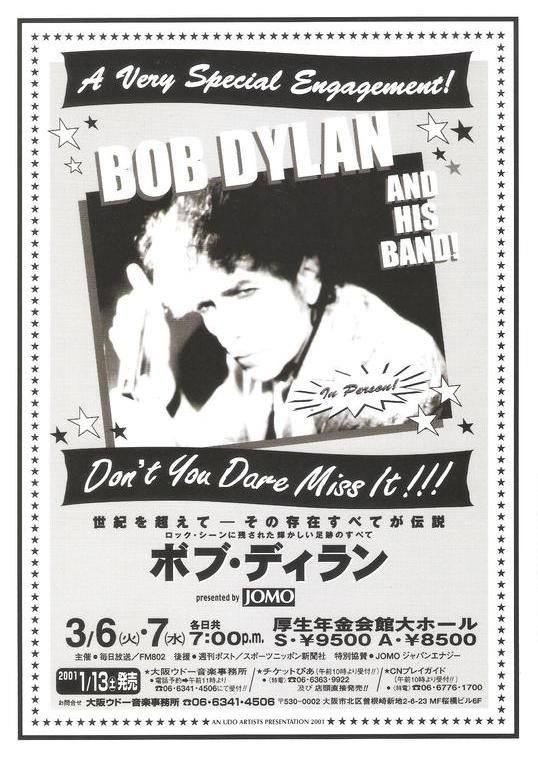 2001, Japan, for two shows in Osaka on March 6 and 7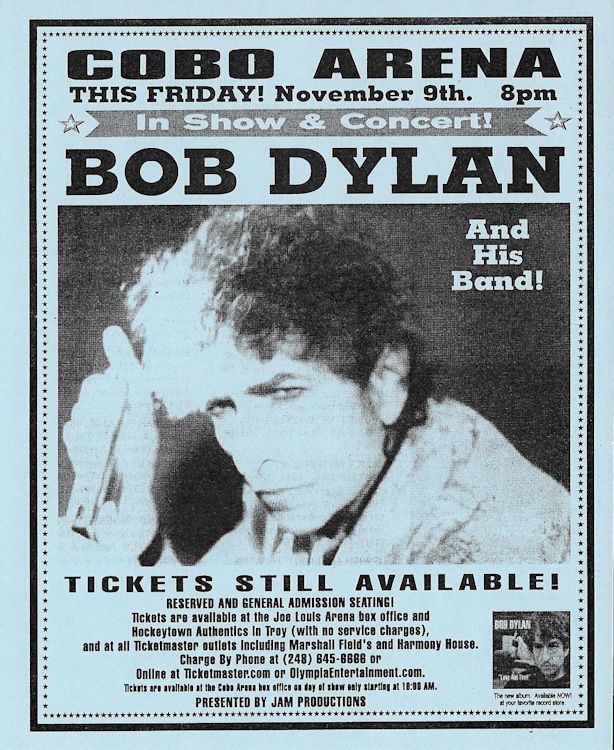 2001, USA, Detroit, Michigan, Cobo Arena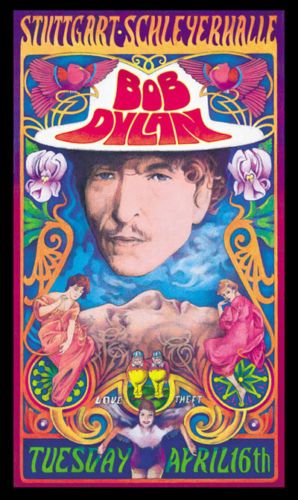 2002, Germany, Stuttgart, Schleyerhalle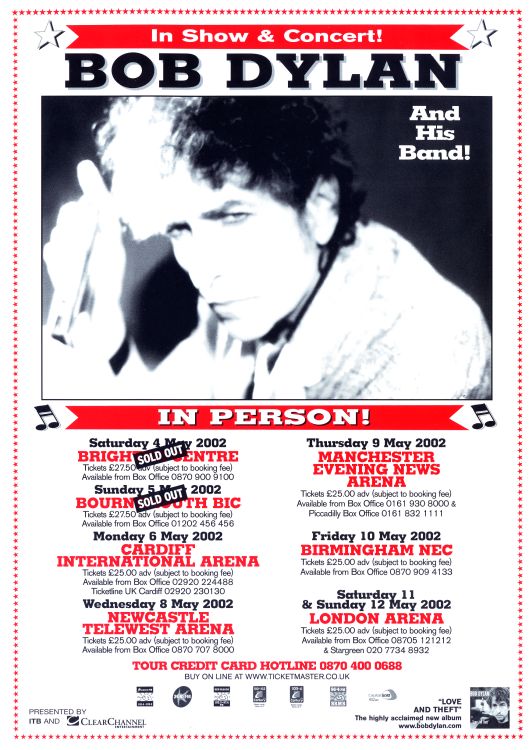 2002, UK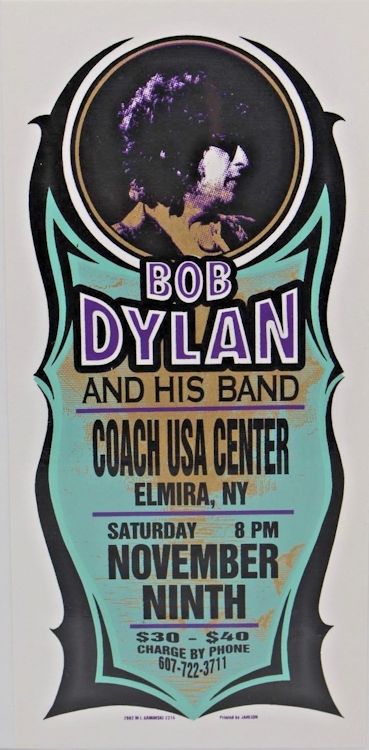 2002, USA, Elmira, NY, Coach USA Center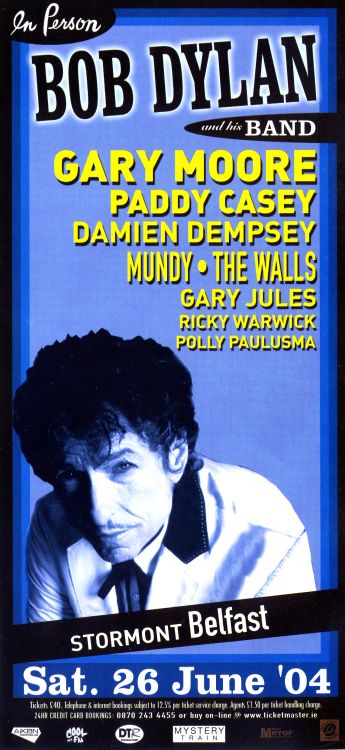 2004, UK (Ulster), Belfast, Stormont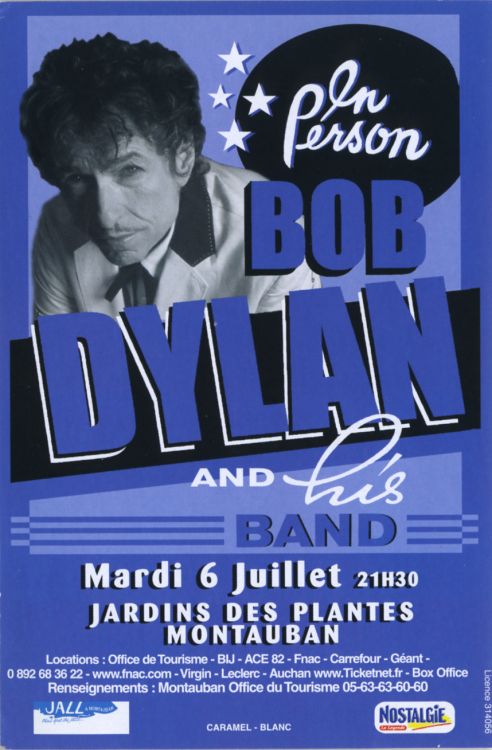 2004, France, Montauban, Jardin des Plantes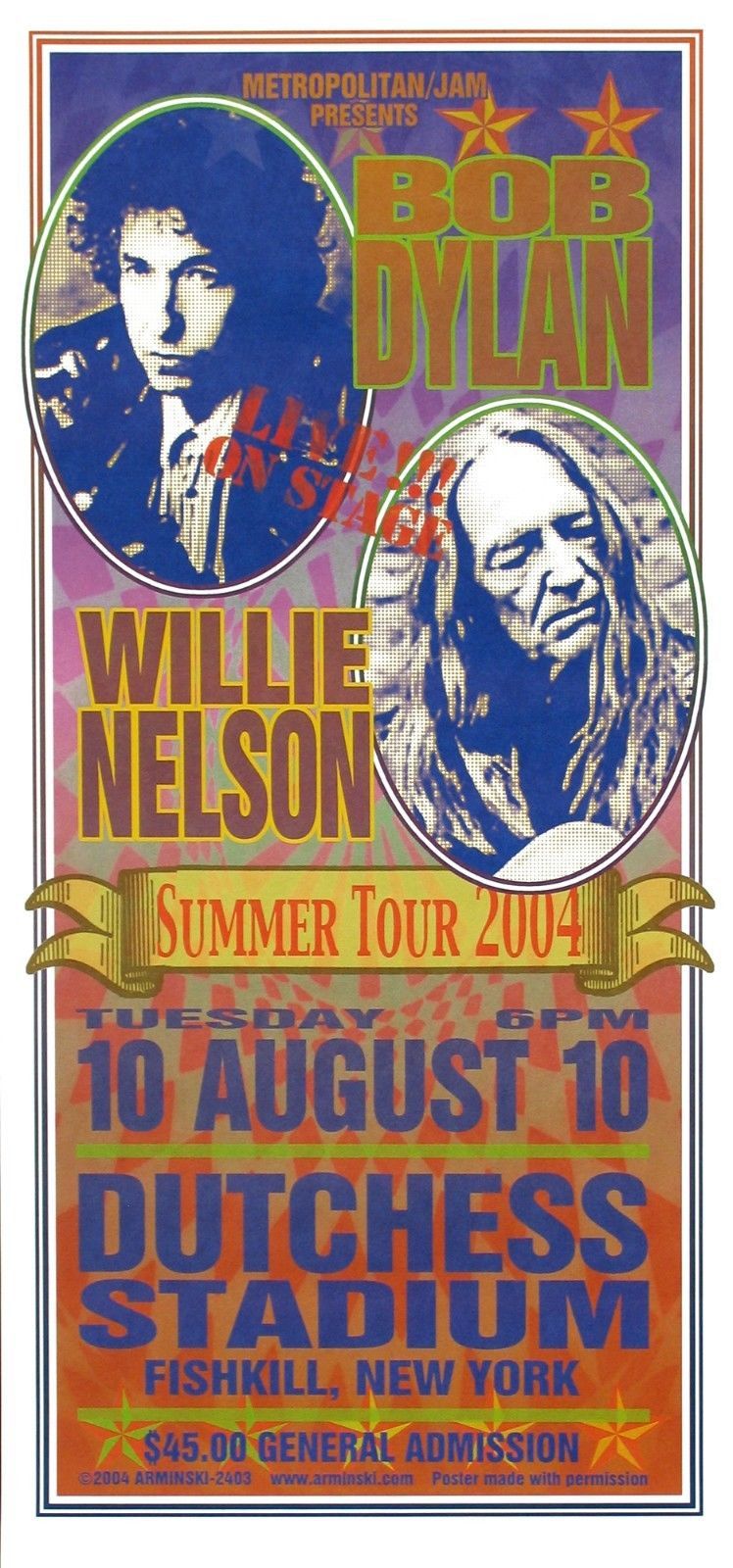 2004, USA, Fishkill, NY, Dutchess Stadium
2005, Canada, Victoria, BC, Save-On-Foods Memorial Centre
2005, UK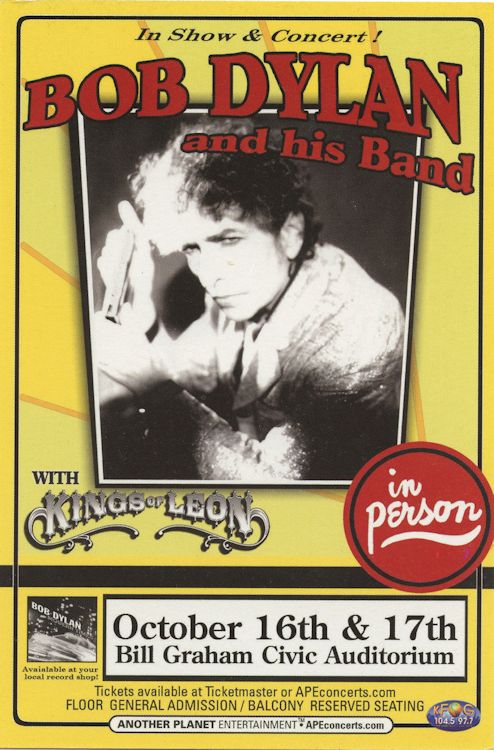 2006, USA, San Francisco, Ca.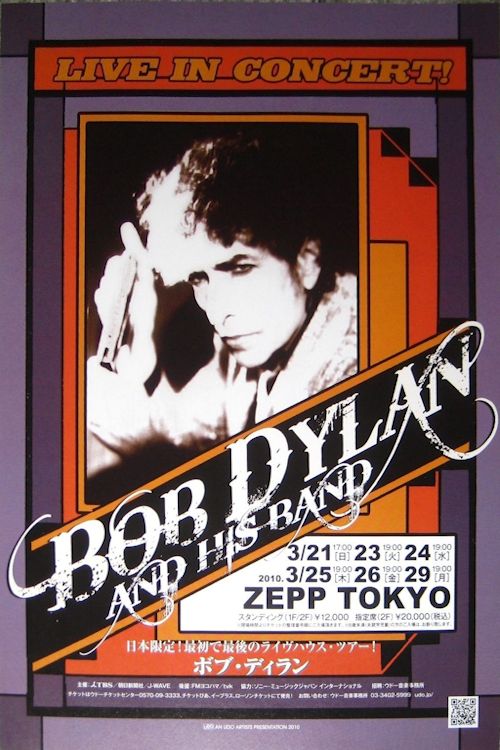 2010, Japan, Tokyo, Zepp Tokyo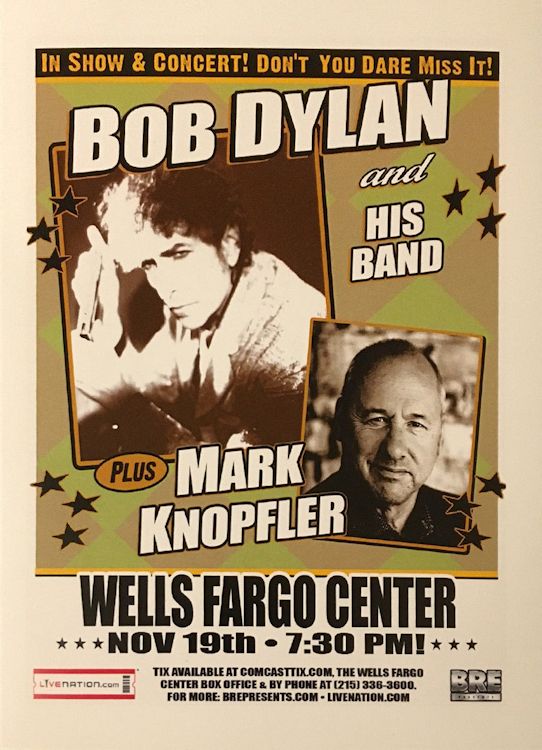 2012, USA, Philadelphia, Pa., Wells Fargo Center
2013, USA, Camden, NJ, Susquehanna Bank Center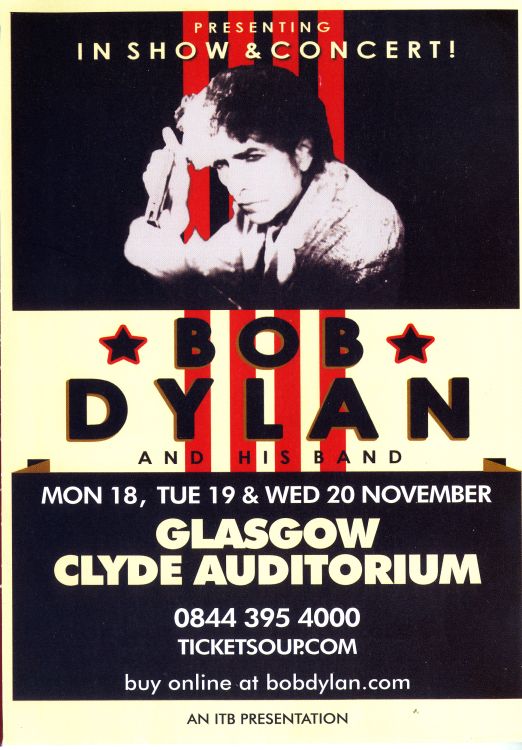 2013, UK, Glasgow, Clyde Auditorium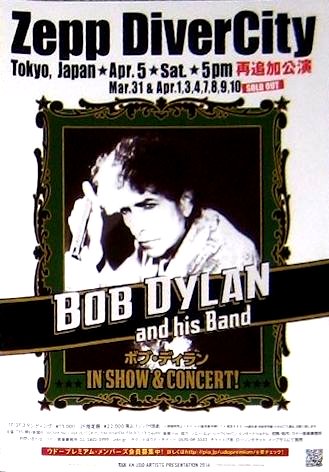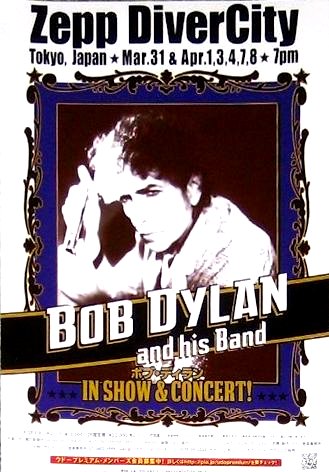 2014, Tokyo, Japan, Zepp DiverCity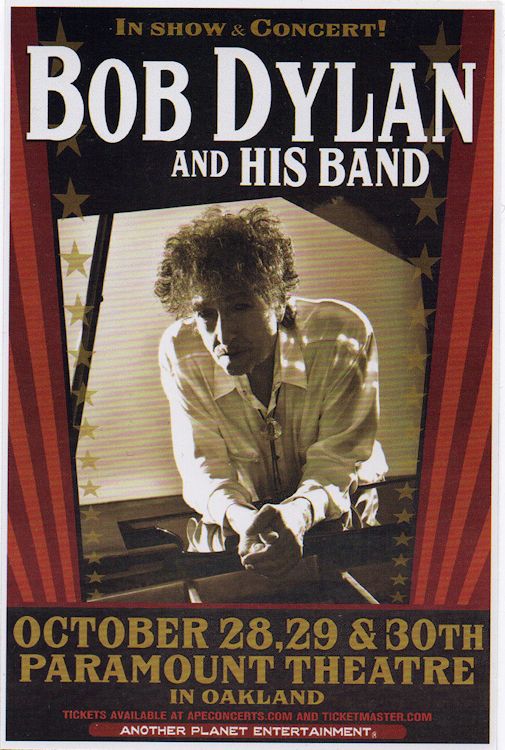 2014, USA, Oakland, Ca, Paramount Theatre